Main content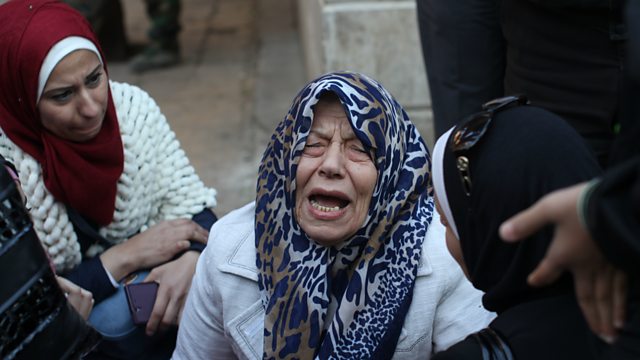 Syria: A Complicated War
Is the Syrian conflict a civil war or a war against Syria waged by militant jihadi groups?
This week, a special programme recorded in Damascus and Beirut looking at the Syrian conflict and its possible solutions. It's a highly complex struggle. But is it right to characterise it as a civil war, a home-grown uprising to Bashar al-Assad's brutal regime – as many in the Syrian opposition view it? Or is the conflict a war against Syria, conducted by militant jihadi groups supported by Syria's enemies – as the Assad government would like it to be seen? In Damascus, Owen Bennett Jones talks to supporters of President Assad, and in Beirut he considers the same issues with a panel of Syrian government critics.
(Photo: bereaved woman crying outside Aleppo hospital. Credit: Dan Isaacs, BBC)
Contributors
In Damascus:
Fares Shehabi – MP for Aleppo, businessman and president of the Syrian Federation of Chambers of Industry<?xml:namespace prefix = "o" ns = "urn:schemas-microsoft-com:office:office" />
Ziad Haidar – Syrian journalist with the Lebanese newspaper As Safir
Maria Saadeh – Former MP, architect and member of Syria's Christian community
In Aleppo:
Wissam Zarqa - a resident of eastern Aleppo and an English teacher
In Beirut:
Bassel Salloukh – Associate Professor of Political Science at the Lebanese American University in Beirut
Yara Bader – Syrian cultural journalist, normally based in Berlin
Khaled Elekhetyar – Syrian journalist who has been living in Beirut for the last five years
Featured in...
Owen Bennett-Jones meets those caught in the cross-fire of the country's civil war