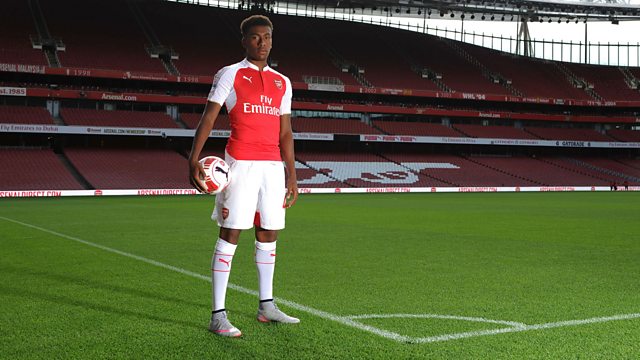 Meet the Iwobis
Arsenal winger Alex Iwobi describes how Arsene Wenger has taught him the value of patience. Iwobi, who's enjoying his break-through season at Arsenal, also tells us why he chose to play for Nigeria over England and how Nigerian fans ask for much more than mere selfies when they see him.
Iwobi is also joined by his father, Chukwu, who says that he still sees Alex as his four-year-old boy, and he'll watch him play for club and country till he dies.
After Thomas Muller said there was no point in playing San Marino, we hear from the San Marino coach and the General Secretary of the Gibraltar FA, who calls Muller's views 'ridiculous'.
Algeria's third coach of 2016, Georges Leekens,tells us why he's returned for a second spell in charge of the national team, why Riyad Mahrez shouldn't be expected to touch the heights of last season, and why Belgium will win the 2018 World Cup.
The tiny club of Kongsvinger will make their debut in the Norwegian cup final on Sunday. We hear from Managing Director, Espen Nystuen, who is also a player. So, the man he hired as coach, decides whether he plays in the team or not.
Photo: Alex Iwobi at the Emirates Stadium. Credit: Getty Images
Last on
Fri 18 Nov 2016
21:32

GMT