Main content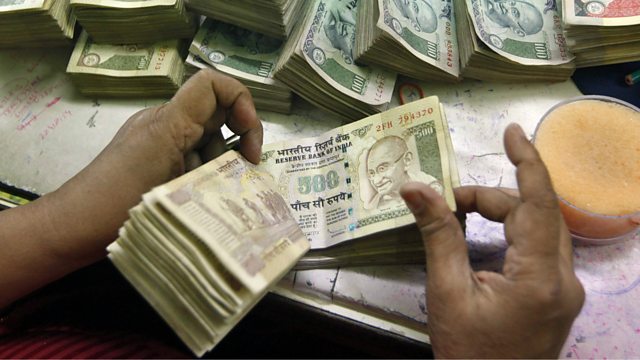 More Queues Expected Outside Indian Banks
The surprise withdrawal of two of the country's bank-notes causes further chaos.
Banks in India are likely to face long queues when they re-open after Monday's public holiday. Last week's surprise decision by the Indian government to withdraw high-value banknotes from circulation overnight has plunged parts of the country into chaos as people rushed to exchange old but now illegal notes for fresh ones. The Prime Minister, Narendra Modi, has defended his decision to withdraw 500 and 1000 rupee notes - worth around 7 and 15 dollars respectively. Mr Modi insists it will help reduce corruption - and bring more money earned on the black market into the official economy. But the problems have forced some comprises. The limit for cash machine withdrawals is being raised - and people have been given another ten days to use the old notes for certain specific transactions. We get the latest from Professor CP Chandrasekhar of JNU, who was caught in a four hour queue for cash.
Also coming up - a wave of selling last week resumed on Monday as investors responded to early hints about Mr Trump's economic plans. With Christmas fast approaching, we visit the annual Dream Toys industry event in the UK, where manufactures are trying to put a brave face on the Brexit vote as they show off this year's must have items for kids. Plus - the politics of workplace toilets - our regular commentator Lucy Kellaway lifts the lid.
Throughout the programme Fergus Nicoll is joined by Ralph Silva of the Silva Research Network in Toronto and independent economist Andy Xie in Hong Kong.
(Picture: Indian currency, rupee notes, rupees, being counted. Credit: Reuters Archive)
Last on
BBC World Service
except News Internet
Broadcast
BBC World Service

except News Internet