Main content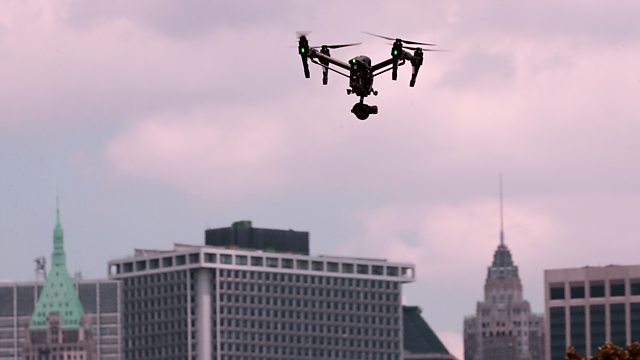 Drones and their Impact on the World
How drones are the most significant impact on aviation since the jet engine.
Drones have been hailed as the most important technological development in aviation since the invention of the jet engine. They have changed the nature of modern warfare and they are also catalysing developments in fields as diverse as law enforcement, film production, disaster management, news gathering and agriculture. The availability and prevalence of drones in everyday life is increasing and creating enormous challenges in the fields of ethics, law and regulation – not least managing the flight paths of a potentially enormous number of small planes.
Bridget Kendall explores the history, present and future of drones. She is joined by Marke "Hoot" Gibson, the Federal Aviation Administration's senior adviser on Unmanned Aerial Systems Integration; Sarah Kreps, associate professor of Government at Cornell University in the US; Michael Nautu who designs and builds drones for purposes ranging from agriculture and aerial mapping to "next-generation conservation" in Namibia.
(Photo: A drone flying above the New York City skyline. Credit: Getty Images)
Sarah Kreps
Sarah Kreps is an Associate Professor in Cornell University's Department of Government, Adjunct Professor of Law at Cornell Law School, and the Associate Director of the Reppy Institute for Peace and Conflict Studies. Her research focuses on issues of international security, particularly questions of conflict and cooperation, alliance politics, political economy, and nuclear proliferation.

Between 1999-2003, she served on active duty in the United States Air Force, and was awarded a Global War on Terror Service Medal, for military operations to combat terrorism in 2005.

She is the author of three books, two of which are about drones. Drone Warfare (2014) examined the political, legal and ethical dimensions of drones, and her new book is Drones: What Everyone Needs to Know (Oxford University Press, 2016). It aims to offer a pragmatic guide to what drones are, how they work, and the ethics surrounding their military and civilian uses.
Marke 'Hoot' Gibson
Marke 'Hoot' Gibson joined the Federal Aviation Administration (FAA) as the Senior Advisor, Unmanned Aircraft Systems (UAS) Integration. This position was established to focus on external outreach and education, inter-agency initiatives and an enterprise-level approach to FAA management of UAS integration efforts.

Until January 2011, Maj. Gen. Marke F. Gibson was Director of Operations, Deputy Chief of Staff for Operations, Plans and Requirements, Headquarters U.S. Air Force, Washington, D.C.

He began his career as a T-38 instructor pilot and A-10 pilot, and has held numerous operational and staff assignments. These include military assistant to the Department of Defense Executive Secretary and Vice Director of North American Aerospace Defense Command Operations. He has commanded an operations group and a fighter wing. Prior to his role as Director of Operations he was Vice Commander, 7th Air Force and U.S. Air Forces Korea, and Chief of Staff, Air Component Command, Osan Air Base, South Korea.
Michael Nauta
Michael Nauta is a Namibian mechanical engineer with interests in Engineering Design, Mechanical Systems, Rapid Prototyping and Aviation. He has experience with designing and building Unmanned Aerial Vehicles (UAVs), and aims to develop drone technologies for poverty alleviation and human advancement.

He started working on drones in 2013 at the National Institute of Technology in Durgapur in India, working on remote controlled aircraft. He remained in India for three years, where he worked on developing UAVs for use in disaster assessment and management in situations where immediate human access is not possible.  Since his return to Namibia he has been designing and building drones for purposes ranging from agriculture and aerial mapping, to "next-generation conservation". Michael specialises in building drones from scratch using 3D printed parts, and is currently working on a project to do with open-source 3D printing.