Main content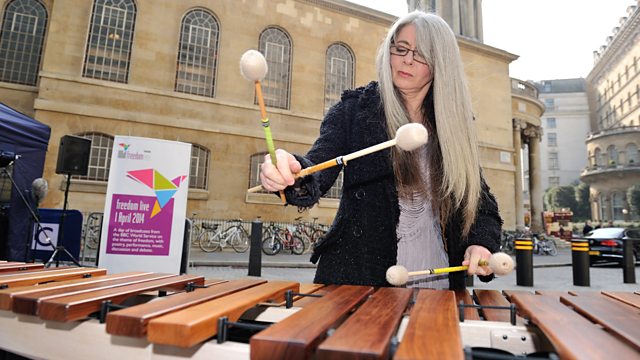 The History of Rhythm
Acclaimed percussionist Dame Evelyn Glennie explores the evolution of musical rhythm.
Acclaimed percussionist Dame Evelyn Glennie has a lifelong passion for understanding how we are impacted by rhythm. She explores the evolution of musical rhythm over several millennia through different cultures, demonstrating how migration has impacted many different styles of music across generations and regions, and how the resulting fusions gave rise to new rhythms in contemporary music.
With contributions from leading ethnomusicologists, percussionists, composers, scientists and musicians from around the world, Evelyn will explain how the first percussion instruments, which were simply a human body and the elements of surrounding environment, extended to include the first drums which were hollowed out wooden logs with a piece of animal skin placed over the top. Over thousands of years the drums that evolved – and the music created on them – has incorporated and reflected the merging and transformation of cultures, resulting in polyrhythms that have re-shaped previously standard music forms.
Evelyn will provide examples of how specific instruments that provide rhythm in modern music have evolved, such as the snare drum, one of the driving forces of rock n roll, which was originally the central focus of military signalling pioneered by the Turkish armies of the 14th Century. Out of that military tradition the snare found its way into the classical symphony orchestra and then in to popular music, providing a rhythm that reflects our heartbeat – the foundation for all human rhythm.
(Photo: Dame Evelyn Glennie performs at the Piazza outside New Broadcasting House, as part of BBC Freedom Live Day 2014)
Last on
BBC World Service
Australasia
Broadcasts
BBC World Service

except News Internet

BBC World Service

except East and Southern Africa, News Internet & West and Central Africa

BBC World Service

East and Southern Africa & West and Central Africa only

BBC World Service

except Americas and the Caribbean & News Internet

BBC World Service

Americas and the Caribbean

BBC World Service

except News Internet

BBC World Service

Australasia