Main content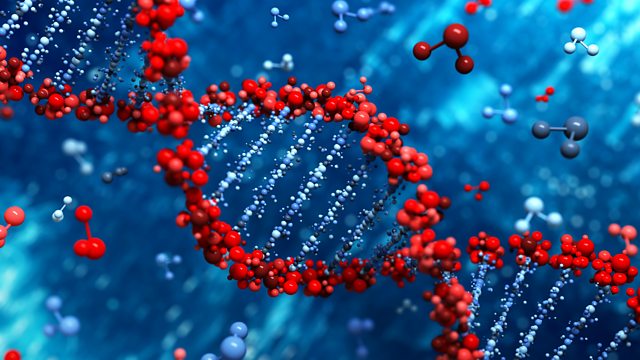 DNA: The code for making life
DNA: everything you need to know, but were afraid to ask. With Nobel laureate Tomas Lindahl, Niels Geijsen, T Ryan Gregory and Greger Larson
Bridget Kendall and guests explore the current understanding of how DNA works, why it needs constant repair in every living organism and how new DNA-altering techniques can help cure some medical conditions. Joining Bridget are Swedish Nobel Laureate and Francis Crick Institute Emeritus Group Leader Tomas Lindahl who pioneered DNA repair studies, medical researcher Niels Geijsen from the Hubrecht Institute who works on curing diseases caused by faulty inherited genes, evolutionary biologist T Ryan Gregory from Guelph University who asks why an onion has 5 times as much DNA as a human, and Oxford University's bio-archaeologist Greger Larson whose research suggests that dogs were independently domesticated twice, on different continents.
Photo Credit: Thinkstock Photos
Last on
BBC World Service
Americas and the Caribbean
Tomas Lindahl
Tomas Lindahl shared the Nobel Prize in Chemistry in 2015 'for mechanistic studies of DNA repair' After obtaining his research doctorate, he did postdoctoral research at Princeton University and Rockefeller University. Tomas was amongst the first to recognise the existence of DNA repair mechanisms early in his career at the Karolinska Institute in the 1970s. He was professor of medical chemistry at the University of Gothenburg 1978–82. After moving to the United Kingdom he joined the Imperial Cancer Research Fund (now Cancer Research UK) as a researcher in 1981. From 1986 to 2005 he was the first Director of Cancer Research UK's Clare Hall Laboratories in Hertfordshire, since 2015 part of the Francis Crick Institute.
Niels Geijsen
Niels Geijsen is Professor of Regenerative Medicine, at Hubrecht Institute and Utrecht University, and co-founder of Ntrans Technologies. He  received his PhD from Utrecht University in The Netherlands in 2000 studying cytokine signalling in the hematopoietic system. He completed his post-doctoral training in the lab of Dr. George Daley at MIT and the Whitehead Institute for Biomedical Research where he pioneered a method for the in vitro generation of germ cells from embryonic stem cells. Dr. Geijsen's research focuses on understanding the biology of pluripotent stem cells and developing new stem-cell based tools to explore human development and oncogenic transformation.
T Ryan Gregory
T Ryan Gregory is Associate Professor, Dept. of Integrative Biology, University of Guelph. He completed his B.Sc. at McMaster University in 1997 and earned his Ph.D. in evolutionary biology and zoology from the University of Guelph in 2002. He has been the recipient of several prestigious scholarships, fellowships, and awards, including the 2003 NSERC Howard Alper Postdoctoral Prize, the Canadian Society of Zoologists Bob Boutilier New Investigator Award (2007), and the Genetics Society of Canada Robert H. Haynes Young Scientist Award (2010).  Dr. Gregory's primary research interests include large-scale genome evolution, biodiversity and genomic diversity, and macroevolution. His first book, The Evolution of the Genome, was published in early 2005. He is also Scientific Coordinator of the HealthBOL project targeting vectors, pathogens, and parasites as part of the International Barcode of Life (iBOL) program.
Greger Larson
Greger Larson is Director Palaeogenomics & Bio-Archaeology Research Network, and Professor at Oxford University. He was awarded his PhD in 2006 from the University of Oxford's Zoology department. His PhD investigated animal domestication through the use of modern and ancient DNA. In 2015 he became PI of the Wellcome Trust Palaeogenomics & Bio-Archaeology Research Network at the University of Oxford. He combines the resolution afforded by DNA sequences and fine-scale morphological variation with the time depth of archaeology and palaeontology, to establish the patterns of DNA and morphological variance through time and space. Using a range of bioinformatic approaches Prof. Larson aims to answer long-standing questions related to how, when, and where evolutionary processes (including domestication) took place that have led to the creation of the modern world.
Broadcasts
BBC World Service

except Americas and the Caribbean, Australasia & News Internet

BBC World Service

Australasia

BBC World Service

Americas and the Caribbean
Featured in...
The people and discoveries that changed how we deal with our physical health