Main content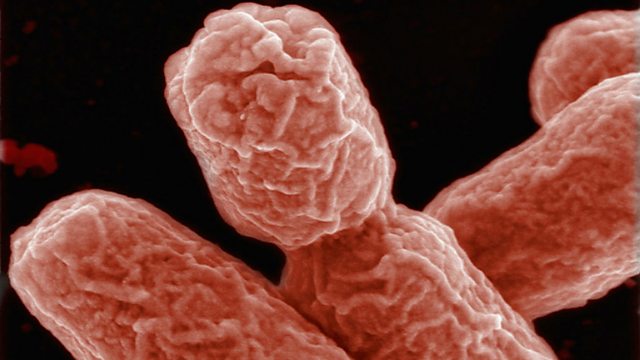 How Do We Fix Antibiotics?
How Komodo dragons, three toed sloths, and Dutch pigs could help avert a post-antibiotics apocalypse.
By 2050, experts predict that drug-resistant infections will kill one person every three seconds unless the world's governments take drastic steps now. But given the complexity of antibiotics resistance, what should their plan be? Some of the possible fixes involve changing ingrained human behaviours such as doctors' prescribing habits and the intensive farming of animals. But other promising solutions to avert a post-antibiotics apocalypse come from surprising sources. Scientists are now hunting for undiscovered fungi in the world's most remote places while other researchers stay in the lab deciphering the language of bacteria.
(Photo: A depiction of some EHEC bacteria Credit: HZI/Getty Images)
Last on

BBC World Service
Online, Europe and the Middle East & UK DAB/Freeview only
Clips

Broadcasts
BBC World Service

Americas and the Caribbean

BBC World Service

Online & UK DAB/Freeview only

BBC World Service

East Asia

BBC World Service

Australasia & South Asia only

BBC World Service

East and Southern Africa

BBC World Service

except News Internet

BBC World Service

except East and Southern Africa & News Internet

BBC World Service

Australasia & South Asia only

BBC World Service

Americas and the Caribbean, East Asia, East and Southern Africa & West and Central Africa only

BBC World Service

Online, Europe and the Middle East & UK DAB/Freeview only