Main content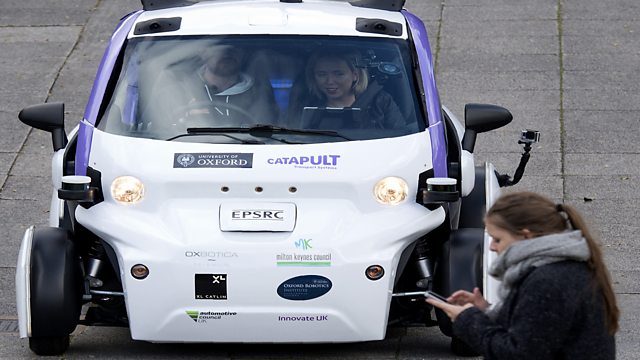 Do we Need Artificial Intelligence?
A revolution in artificial intelligence is transforming our lives. But how good are algorithms at making decisions about the messy, complex human world?
Look out of the window and you won't see many robots – but the AI revolution is here. The relentless encroachment of machine-thinking into every aspect of our lives is transforming the way we think and act. Machine-learning algorithms drive our smartphones and social media - and they are increasingly present in our homes, offices, schools and hospitals. Whether driving cars, diagnosing disease or marking essays, artificial intelligence is everywhere. But how does machine-thinking compare to human thought and what are the limitations of AI? From biased training data to impenetrable black-box algorithms, Quentin Cooper and guests explore the strengths and limitations of AI.
To discuss whether we need AI are - Zoubin Ghahramani, professor of Information Engineering at the University of Cambridge and deputy director of the Leverhulme Centre for the Future of Intelligence; Lydia Nicholas, senior researcher at the British innovation foundation Nesta; Professor Kentaro Toyama of the University of Michigan, co-founder of Microsoft Research India and author of Geek Heresy: Rescuing Social Change from the Cult of Technology.
(Photo: A woman uses a mobile phone as she walks in front of an autonomous self-driving vehicle as it is tested in a pedestrianised zone. Credit: Getty Images)
Last on
BBC World Service
Australasia
Zoubin Ghahramani
Zoubin Ghahramani FRS is Professor of Information Engineering at the University of Cambridge, where he leads the Machine Learning Group, and the Cambridge Liaison Director of the Alan Turing Institute, the UK's national institute for Data Science. He studied computer science and cognitive science at the University of Pennsylvania, obtained his PhD from MIT in 1995, and was a postdoctoral fellow at the University of Toronto. His academic career includes concurrent appointments as one of the founding members of the Gatsby Computational Neuroscience Unit in London, and as a faculty member of CMU's Machine Learning Department for over 10 years.  His current research interests include statistical machine learning, Bayesian nonparametrics, scalable inference, probabilistic programming, and building an automatic statistician.
Kentaro Toyama
Kentaro Toyama is W. K. Kellogg Associate Professor at University of Michigan's School of Information.  Until 2009, he was assistant managing director of Microsoft Research India, which he co-founded in 2005. At MSR India, he started the Technology for Emerging Markets research group, which conducts interdisciplinary research to understand how the world's poorer communities interact with electronic technology and to invent new ways for technology to support their socio-economic development. 
Lydia Nicholas
Lydia Nicholas is a Senior Researcher in Nesta's Collective Intelligence team, exploring new forms of knowledge production and problem solving that are emerging from the collaboration of networked publics, institutions and organisations. Lydia's work looks at how minds, systems and technologies come together to perform better at cognitive challenges with particular focus on health and patient organisations. Before joining Nesta Lydia worked as a researcher across technology sectors, with particular focus on medical and biological information. She has an MSc in Digital Anthropology and wrote her thesis on public understanding of Big Data and data collection practices.
Broadcasts
BBC World Service

except Americas and the Caribbean, Australasia & News Internet

BBC World Service

Americas and the Caribbean

BBC World Service

except News Internet

BBC World Service

Australasia
Featured in...
Machines, materials and methods that changed how the world works