Main content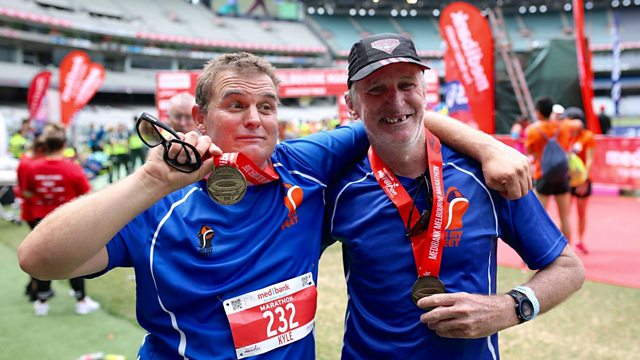 Redemptive Running
How marathon running is raising self-esteem of homeless people with remarkable results.
Ian Brown might be homeless, but it hasn't stopped him training for and successfully completing the Melbourne marathon last week. After years of homelessness Ian found help and redemption in running, supported by Australian charity 'On My Feet'. They provide new trainers and use running to raise the homeless self-esteem with remarkable results. We speak to Ian and 'On My Feet' CEO Keegan Crage.
Ultra Marathon
There was a time running 26.2 miles would be enough to fulfil a personal dream and/or be sufficient to brag endlessly on social media. Now however if you're running anything less than 50 miles you're not trying! We look at the growth in popularity of ultra-marathon by taking part (figuratively) in an overnight race which also raised funds for schools across Africa.
Joggling Marathon:
When Michal Kapral finished the Chicago marathon in less than 3 hours, he was rightly proud… What's more he never dropped a ball on the entire route… That's because Michal is a joggler and ran the entire marathon whilst juggling 3 balls, never once braking stride or dropping a ball. But why?
Peruvian On Up
We're on the start line at one of motorsport's toughest races; the Camino del Inca which gets underway in Peru on Saturday. It's the 50th running of the race and 98 cars will attempt the 4,000 kilometre route, sometimes driving for more than 12 hours a day. The race is more than just a sporting event, it has become a chance for people to celebrate the country's culture and landscape. The route heads through the Andes Mountains, around Lake Titicaca and through the arid deserts of southern Peru.
Footy App
Kelly Davies is a former footballer turned entrepreneur but with a socially responsible attitude. She played for Arsenal and Liverpool and on the international stage for Wales, but since retiring has developed a computer game designed to test your ability to run a football club. The aim of the "Football CEO" app is not just to win cups and trophies, but to manage a club's finances and avoid bankruptcy! In turn the company behind the game, Vi-Ability use the profits it makes from the app to transform run down clubs (IRL), offering opportunity to people in areas needing regeneration.
Photo: Ian Brown (R) and Kyle Holtzman having completed the Melbourne Marathon. Credit:James Carmody/OnMyFeet
Last on

BBC World Service
except News Internet
Broadcast
BBC World Service

except News Internet