Main content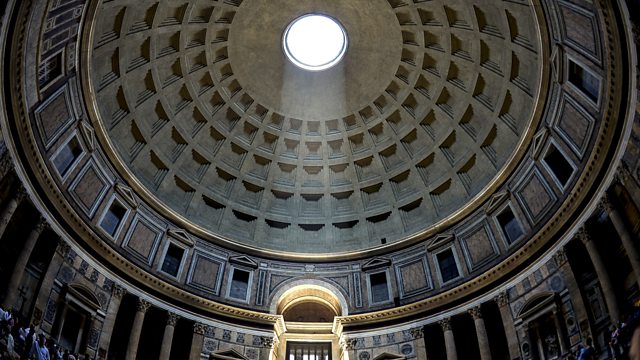 Concrete: Foundation of the Modern World
How concrete has evolved from Roman bridges and amphitheatres to gigantic, modern, engineering projects.
It has been around since before 6,000BC, the Ancient Egyptians used a version of it and so did the Romans. Nowadays it is the most common man-made building material in the world, used for some of the planet's biggest engineering projects - and some of the smallest. It has not always been loved by the public but architects and designers see both practicality and beauty. There is also an environmental issue - the production of concrete has a major environmental impact. So what of its future? Bridget Kendall explores concrete with architect Anupama Kundoo, design critic and writer Stephen Bayley and engineer and scientist professor Paulo Monteiro.
(Photo: The ceiling of the Pantheon in Rome is an example of Roman concrete construction. Credit: Getty Images)
Paulo Monteiro
Paulo Monteiro is the Roy W. Carlson Distinguished Professor and Faculty Scientist at the Department of Civil and Environmental Engineering at the University of California, Berkeley. His primary research interests are Concrete Behaviour and Structural Materials. He is a world specialist in the structure of building materials and is very interested in making concrete production greener and making concrete  more interesting to use and even lighter and stronger.
Stephen Bayley
Stephen Bayley is an author, critic, columnist, consultant, broadcaster, debater and curator. Over the past thirty years he has challenged the way the world thinks about design. With Terence Conran he created the influential Boilerhouse Project in the Victoria & Albert Museum. This became London's most successful exhibition space during the eighties and evolved into the influential Design Museum which Mrs Thatcher opened in 1989. Stephen wants to challenge the prejudices he thinks many people have about concrete.
Anupama Kundoo
Anupama Kundoo's internationally recognised and award-winning architecture practice started in 1990, demonstrates a strong focus on material research and experimentation towards an architecture that has low environmental impact and is appropriate to the socio-economic context. 

Anupama has built extensively in India and has had experience of working, researching and teaching in a variety of cultural contexts across the world:  She is interested, like Paulo, in using concrete more efficiently and developing new ways to use it- practically with developments like ferrocement and aesthetically with the use of lighter, thinner slabs and the use of colour.