Main content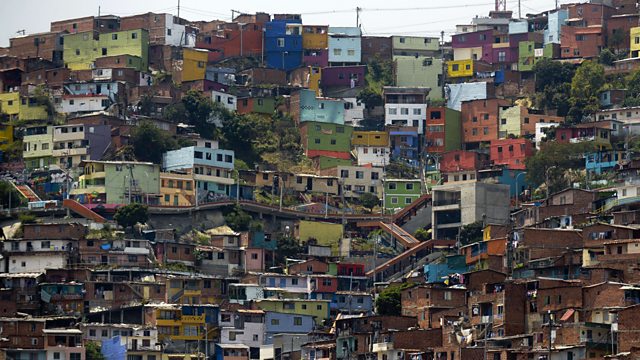 Reducing Urban Poverty
New ways to tackle urban poverty. With Quentin Cooper, Purnima Mane, Francis Nyamnjoh, Doug Rauch and Paula Daniels.
With half the world's population now living in just 1% of the land area, urban poverty is a growing problem. We head to a gathering of leading global thinkers at the Rockefeller Foundation Bellagio Centre, to explore practical and innovative ways to tackle the issue. Quentin Cooper is joined by population expert Purnima Mane, anthropologist professor Francis Nyamnjoh, former president of a chain of ethical grocery stores Doug Rauch, and food and water policy expert Paula Daniels.
(Photo: Comuna 13 Shantytown Colombia. Credit: Raul Arboleda/AFP/Getty Images)
Purnima Mane
A life-long champion of sexual and reproductive health and women's rights, Dr. Purnima Mane served in leadership positions in a broad range of organizations including several United Nations Organizations--UNFPA, UNAIDS, and WHO--as well as the Global Fund for AIDS, Tuberculosis and Malaria, the  Population Council and Pathfinder International. From 2007 to 2012 Dr. Mane served as Assistant Secretary-General of the United Nations and Deputy Executive Director of UNFPA. Before working on global health, Dr. Mane worked in India for over a decade at the Tata Institute of Social Sciences, Mumbai as Associate Professor.
Francis Nyamnjoh
Francis Nyamnjoh joined the University of Cape Town as Professor of Social Anthropology from the Council for the Development of Social Science Research in Africa (CODESRIA) in Dakar, Senegal, where he served as Head of Publications. He has taught sociology, anthropology and communication studies at universities in his native Cameroon and Botswana and published widely on globalisation, citizenship, media and the politics of identity in Africa. He has also published seven ethnographic novels, short stories and poetry.
Doug Rauch
Doug Rauch spent 31 years with Trader Joe's Company, the last 14 years as President, helping grow the business from a small, nine-store chain in Southern California, to a nationally acclaimed retail success story. Doug is CEO of Conscious Capitalism Inc.; a recent Senior Fellow in Harvard's Advanced Leadership Initiative; Trustee at Olin College; Chairs the Board of Overseers at WBUR; and serves on the board of several for-profit and non-profit companies. He is also the founder and president of Daily Table, an innovative retail concept designed to bring affordable nutrition to the food insecure in US inner cities.
Paula Daniels
Paula Daniels is the co-founder of the Center for Good Food Purchasing, a non-profit recently founded as a national spin off from the Los Angeles Food Policy Council, which Paula founded during her time as a senior advisor to Mayor Villaraigosa of Los Angeles.  The Council is a policy based collective impact initiative of food system leaders working toward an environmentally sustainable, equitable and regionally based food system. Paula is also a commissioner with the California Water Commission.. She has a faculty affiliation at the Institute of the Environment and Sustainability at UCLA, and was the 2013 Theodore B. and Doris Shoong Lee Distinguished Professor of Real Estate Law and Urban Planning at UC Berkeley.