Main content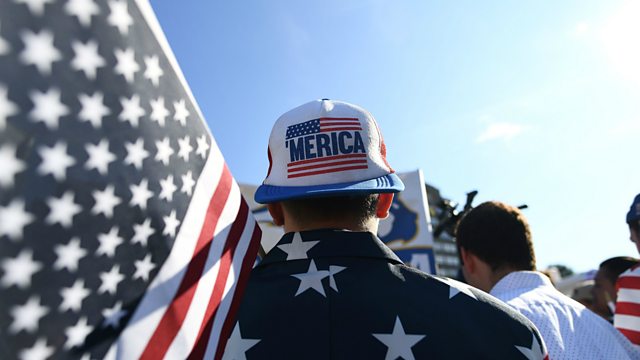 Challenging America's Two Party System
Why can't a third party candidate become US president?
Donald Trump and Hillary Clinton are seen as the most unpopular candidates to have ever stood for the presidency of the United States. So why is it so difficult for a third party candidate to break through and make a real impact? Owen Bennett Jones and his guests discuss whether the US political system, trumpeted as a shining beacon of democracy across the world, really does give the voter the best choice.
(Photo: A Trump supporter at the first US presidential debate in September 2016. Credit: Getty Images)
Last on

BBC World Service
except Australasia & News Internet
Contributors
Zoltan Istvan - journalist and entrepreneur running for US president as the candidate of the Transhumanist Party
Lawrence Lessig - Professor at Harvard Law School and a former candidate for the 2016 Democratic presidential nomination.
Greg Orman - former independent Senate candidate in Kansas in 2014 and author of the new book A Declaration of Independents: How We Can Break the Two-Party Stranglehold and Restore the American Dream
Professor Marjorie Hershey - Indiana University in Bloomington
Jill Stein - Green Party candidate for the US presidency
Broadcasts
BBC World Service

except News Internet

BBC World Service

except News Internet

BBC World Service

except Australasia & News Internet

BBC World Service

except Australasia & News Internet