Main content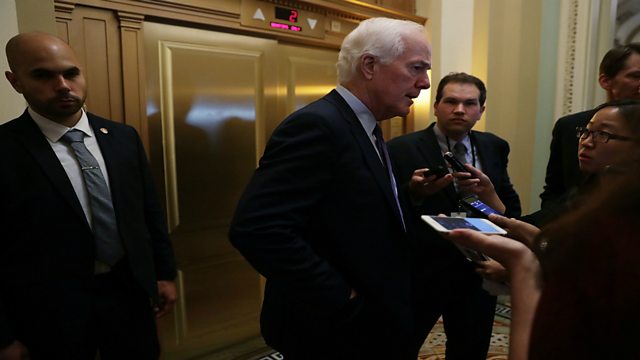 Congress Rejects Obama Veto of Saudi 9/11 Lawsuits Bill
Congress has voted to override President Barack Obama's veto of a bill that would allow families of 9/11 victims to sue Saudi Arabian officials.
President Obama is coming to the end of eight years in the White House with perhaps a sense of relief. But he won't be happy that in the dying days of his office, for the first time in his presidency, he has had a veto overturned by Congress. The law to allow families of victims of 9/11 to sue the government of Saudi Arabia received overwhelming support from US legislators, but the White House says it could harm relations with the kingdom and set a worrying precedent of dragging sovereign nations into the American court system. The law, known as JASTA, was passed by Congress, vetoed by President Obama, and then Congress voted to overturn his veto. We hear from Christina Petersen who reports on Congress for the Wall St Journal and Fahad Nazer, a former analyst at the Saudi Embassy in Washington and now with the JTG consultancy in Virginia.
OPEC is the club of oil producing nations that controls - at least in theory - the global supply of oil. Oil has been in something of a crisis recently, with historically low prices and OPEC has been notable by its absence from the field. But now OPEC seems to have made a decision, and it's a momentous one - for the first time since 2008, the cartel is going to cut its output. At a meeting in Algiers, it has been reported, OPEC agreed to reduce output from 33.24 million bpd to 32.5 million. Analysing the decision is Miswin Mahesh, oil expert at Barclays
It's estimated two million Indian lorry drivers regularly pay for sex, but barely 10% use condoms. Health officials say there is a strong correlation between incidences of HIV and the routes used by truckers, and so to try and raise awareness of safe sex, lorry themed condoms are being sold. The BBC's Shilpa Kannan reports.
The latest contribution to the US presidential election campaign comes from Katy Perry. She's stripping off as an incentive to people in the US to vote. Celebrities are very high profile in this electoral season. Some say it is the most celebrified election the US has known. But does it change anyone's views to know what singers or actors or reality TV stars think? We hear from Cristina Veloci, managing editor of Stylecaster, a style, beauty and entertainment website.
We cross over to India where Rahul Tandon brings us the latest business news from the region. And joining us throughout the programme are Dave Shaw, former Washington bureau chief for Marketplace now at Scripps News and in Melbourne, Dennis Gentilin, author of The Origins of Ethical Failures and a former whistleblower at the National Australia Bank.
Picture description: U.S. Senate Majority Whip Sen. John Cornyn (R-TX) speaks to members of the media at the Capitol September 28, 2016 in Washington, DC. The Senate has voted to override President Obama's veto of a bill to allow the families of 9/11 victims to sue the Saudi government.
Picture credit: Alex Wong/Getty Images
Last on
BBC World Service
except News Internet
Broadcast
BBC World Service

except News Internet