Main content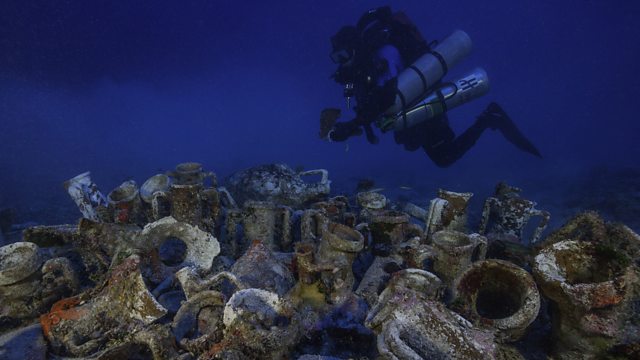 The Antikythera Mechanism and the Ship Wreck
Wreck Diving and the Oldest Computer. Also Out of Africa and Into Australia, Kuwait's Controversial DNA Law and Humming Fish.
It may sound like the plot of a bad thriller, but it's a fascinating tale of a 2000 year old shipwreck off the Greek island of Antikythera. Archaeologists have already discovered what they think is the earliest proto- computer – the Antikythera Mechanism – a clockwork device that modelled the motion of the Sun. Other than this, very little is known about the ship and its contents. Now divers have found a leg bone of one of the ship's passengers. They hope DNA analysis will shed more light on the mystery.
Out of Africa and Into Australia
The result of in depth analysis of the genomes of the world's most diverse populations reveals that all modern human ancestry outside of Africa including Australasians is consistent with descending from a single founding population.
Kuwait's Controversial DNA Law
Last year, after a terrorist attack, Kuwait passed a law requiring all its citizens, residents and visitors to provide DNA samples, for a National Database. The law is about to be enforced in November, and scientists and human rights advocates argue that there needs to be more clarification and legislation checks and measures to avoid any abuse of an individual's privacy.
Humming Fish
At night, underwater, the male Midshipman fish woos his mate by humming. We now know that this unusual behaviour is down to an inner biological clock, regulated by the hormone melatonin. It doesn't make the humming any more tuneful though!
Picture credit © Brett Seymour, EUA/WHOI/ARGO
Presenter: Marnie Chesterton
Producer: Fiona Roberts
Last on
BBC World Service
except News Internet
Broadcasts
BBC World Service

except East and Southern Africa & News Internet

BBC World Service

Americas and the Caribbean

BBC World Service

Online, Europe and the Middle East & UK DAB/Freeview only

BBC World Service

East Asia & South Asia only

BBC World Service

Australasia

BBC World Service

East and Southern Africa & Europe and the Middle East only

BBC World Service

except News Internet