Main content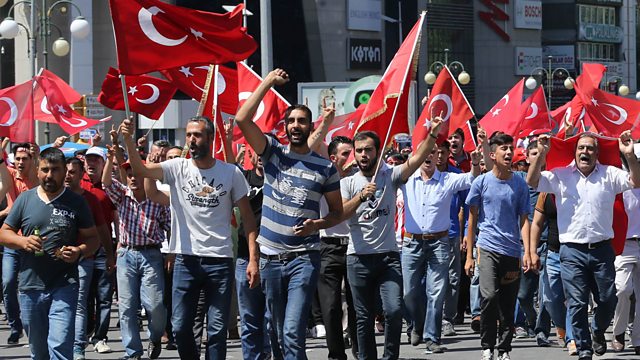 Turmoil Around the World and in Ourselves
How do we respond to turmoil in the World? Are things really more chaotic than they used to be?
Turmoil is all around us – in politics, in our mental health and in fantasy fiction, which often seems to excite our hunger for nightmare scenarios.
With threats of terrorism, environmental catastrophe and political pandemonium around the globe amplified by modern communications, Samira Ahmed is joined by psychiatrist Mina Fazel, political scientist Daniel Drezner, and horror writer and Zombie expert Max Brooks to explore how we might cope with real or perceived disaster and disorder and examine whether the apparent chaos of the modern world really is greater than ever before.
(Photo: People wave national flags as they march to react against a military coup attempt, in Ankara, in July 2016. Credit: Getty Images)
Last on
BBC World Service
except News Internet
Mina Fazel
Dr. Mina Fazel is Associate Professor, Oxford University Department of Psychiatry, Warneford Hospital, UK.

Mina is interested in the mental health of newly arrived refugee and asylum-seeking children and is developing a school-based psychological treatment package for front-line workers to help treat mental health problems. 
Daniel Drezner
Daniel Drezner, Professor of International Politics, Fletcher School of Law and Diplomacy, Tufts University, Boston, USA.

Daniel thinks that political science and political scientists have some responsibility for the rise of Donald Trump and for the current turmoil in US politics.

More broadly, he thinks that political turmoil in the US and elsewhere is a reaction against the potential of globalisation to unite us and instead demonstrates a stronger widespread fear of mass migration/immigration.
Maximillian Michael Brooks
Maximillian Michael Brooks is an American horror author and screenwriter. He is the son of comedy filmmaker Mel Brooks and actress Anne Bancroft. Brooks' writing focuses on zombie stories.

Max is the bestselling author of "World War Z", "The Zombie Survival Guide" and its graphic companion, "The Zombie Survival Guide: Recorded Attacks."

Max is interested in exploring the middle ground between societal panic and denial.
Broadcasts
BBC World Service

Americas and the Caribbean

BBC World Service

except News Internet

BBC World Service

except News Internet