Main content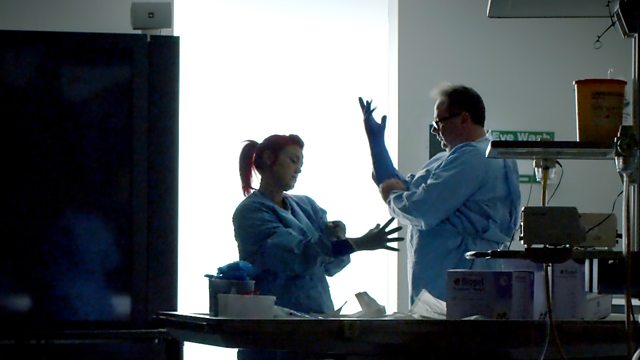 Obesity: The Post Mortem
Documentary investigating the dangers of fat to the human body by following a pathology team as they conduct a post-mortem on a woman whose body was donated to medical science.
Documentary revealing just how dangerous too much fat is to our most vital internal organs. The programme follows a specialist pathology team as they conduct a post-mortem on the body of a 17-stone woman whose body was donated to medical science. Their findings, as they dissect the body and its organs, are startling, exposing the devastating impact of obesity with stunning visuals and fascinating medical facts.
Morbid obesity reduces life expectancy by an average of nine years and is blamed for over 30,000 deaths in the UK every year. With 65 per cent of people already overweight or obese, this extraordinary film is a powerful contribution to the debate about fat, food, lifestyle and how the health service will cope with the growing obesity crisis.
The Human Tissue Authority
The Human Tissue Authority (HTA) is a statutory regulator established in 2005 to oversee compliance with the Human Tissue Act 2004. They license organisations that have reason to use human bodies and tissue, and aim to maintain public confidence that human tissue and organs are used safely, ethically, and with proper consent, which is a fundamental principle of the Act.
The HTA can neither endorse nor oppose the filming of these activities – but they can provide advice to ensure that filming is not contrary to the consent given by the individual or their family, and the deceased and their family are treated with dignity and respect.
Post-mortems may only be carried out on premises that are licensed by the HTA, and are under the oversight of a Designated Individual, who is responsible for ensuring suitable practices on the premises. They would expect the DI to contact them if they were approached by anyone wishing to film or photograph activities taking place in their mortuary.
Credits
| Role | Contributor |
| --- | --- |
| Narrator | Vinette Robinson |
| Participant | Mike Osborn |
| Participant | Carla Valentine |
| Executive Producer | Steve Condie |
| Director | Satiyesh Manoharajah |
| Camera Operator | Satiyesh Manoharajah |
| Series Producer | Melanie Archer |
| Director | Melanie Archer |
| Production Company | Wonder Productions |
Broadcasts
BBC One

except Northern Ireland, Northern Ireland HD, Scotland, Scotland HD, Wales & 1 more

BBC One

Northern Ireland HD & Northern Ireland only

BBC One

except Scotland, Scotland HD, Wales & Wales HD