Main content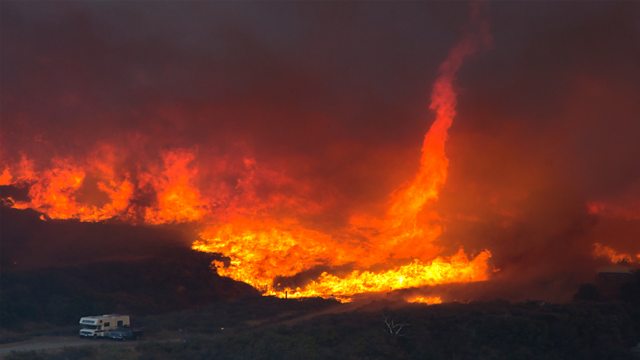 Fire: How Climate Change is Altering our Attitudes to Wildfires
Fire has made us who we are, having a major impact on human evolution, but how will we deal with it in the future? With Andrew Scott, Jennifer Balch and David Bowman.
As fire risks change due to climate change, how should we deal with fire to protect human health and property without compromising the integrity of our environment? Bridget Kendall asks the geologist Andrew Scott, the fire ecologist Jennifer Balch and the biologist David Bowman.
(Photo: A fire tornado in California, USA. Credit: Getty Images)
Andrew Scott
Andrew Scott is a geologist, and Emeritus Professor at the Department of Earth Sciences at Royal Holloway, University of London.  He is a Fellow of the Geological Society of London and the Geological Society of America. Andrew is also an Honorary Professor at Jilin University, Changchun, China. His publications include Fire on Earth, which he co-authored with David Bowman, and he is the editor and part author of a volume on Fire published by the Royal Society this year, which takes a multi- disciplinary approach to address current threats around fire. Andrew Scott studies the way fire has been shaping the earth over the past fifty million years, well before human evolution. He explains how new research has now revealed the way fire has affected plant geology, including the role fire plays in the spread of flowering plants and the creation of the African Savannah. He says this knowledge can also help us predict future changes in the environment.
Jennifer Balch
Jennifer Balch is a fire ecologist who is Assistant Professor of Geography and Director of the Earth Lab at the University of Colorado at Boulder in the United States. Her research focuses on the way fire disturbances have affected the ecosystems of tropical forests like the Amazon, and forced them to adapt - often in a surprising way. She also studies of satellite imagery which has enabled her to see how fire is distributed globally. She explains what that reveals about the differing attitudes towards fire worldwide, and how fires will develop in the future as a result of climate change.
David Bowman
David Bowman is Professor of Environmental Change Biology at the University of Tasmania in Australia. He is also a Visiting Fellow at the Australian National University, Adjunct Professor at the School for Environmental Research, Charles Darwin University and Adjunct Professor at the School of Forest and Ecosystem Science, University of Melbourne. He believes that to truly understand fire and manage it, you have to be able to see it in its totality, which includes the moral dimension of fire, and politics and gender. David Bowman also argues that going back to ancient Aboriginal fire practices could be part of the solution to deal with wildfires today.