Main content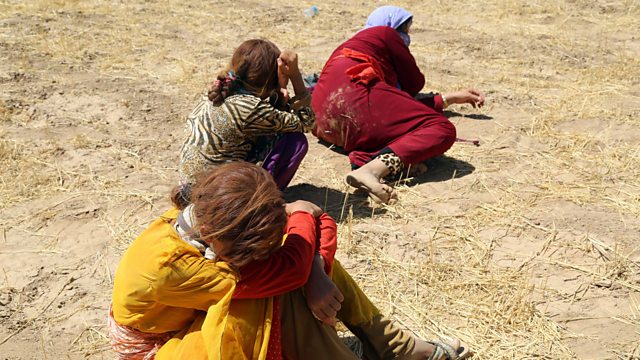 'They Haunt Me, Day and Night'
Dr Nagham Hasan has been helping Yazidi women and girls who've escaped the so-called Islamic State. Their stories are so horrendous that they haunt her in her dreams.
Two years ago, so-called Islamic State attacked an area called Sinjar, and launched horrific attacks on the Yazidi people who live there, whom they consider infidels. They took away thousands of women and girls. Those who have since escaped captivity have told appalling stories about what happened to them. We hear some of those stories and the details are disturbing. The speaker is a Yazidi doctor, Nagham Hasan, who has helped over 900 people who have got away from IS. She has just been awarded the US Secretary of State's International Women of Courage Award for the work she has been doing.
For the past 20 years, Freddy Lim has been the lead singer of a very popular heavy metal band in Taiwan - Chthonic. Then in January this year, he took on a second, rather surprising role. This long-haired, heavily tattooed, leather-wearing celebrity was elected to parliament - representing a new party that supports gay and immigrant rights, and that wants to keep Taiwan independent of Chinese rule.
Takayuki Ohira is a Japanese inventor whose astonishing creation is in the Guinness World Records. It's called the Megastar Planetarium - and we'll hear what's special about it in a moment - but Takayuki's been telling me through an interpreter where his fascination with the night sky began.
When Jefferson Krua was five, he and his family fled their home in Liberia which was embroiled in a civil war. They settled in the United States - the dream for so many people. And in some ways it seemed like that to Jefferson... but not in all ways.
(Photo: Yazidi women lying and sitting on the ground. Credit: Emrah Yorulmaz/Anadolu Agency/Getty Images)
Last on

BBC World Service
East Asia
Broadcasts
BBC World Service

except News Internet

BBC World Service

except East and Southern Africa, News Internet & West and Central Africa

BBC World Service

East and Southern Africa

BBC World Service

except Americas and the Caribbean, Australasia & News Internet

BBC World Service

Australasia

BBC World Service

Americas and the Caribbean

BBC World Service

South Asia

BBC World Service

East Asia