Main content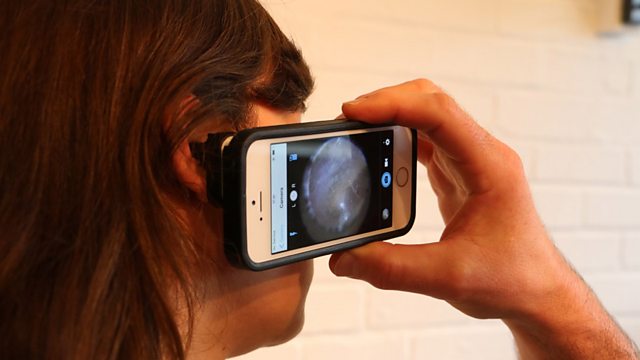 How Technology is Transforming Healthcare
Remote monitoring to improve health – from wound stitches to ear infections and a breathalyser for alcoholics
Disabling hearing loss affects 360 million people around the world – impacting on their education, career prospects and social life. It can be caused by infections, exposure to loud noise or the use of particular drugs – as well as simply getting older. In some parts of the world it's difficult for people to see a doctor about this "invisible" problem. The British company Cupris has developed a small attachment for a smartphone which means you can take pictures and videos of the ear canal. These can be shared with experts all over the world, to screen for common ear problems. The device has already been trialled in Nepal – and now a larger study is underway in the south of England.
Air Pollution in New Delhi
More than 80% of people who live in urban areas which monitor air pollution are exposed to air quality levels which beat WHO limits – and low low-income cities are worst hit. One such city is Delhi – where the lungs of half of all children are damaged by minute particles – created mainly by emissions from motor vehicles. A public health doctor who is based in the city, Nitish Dogra, decided to use WhatsApp to send out ultra-local readings from a pollution sensor to subscribers wanting to avoid the worst effects of the fumes.
Soberlink
A remote breathalyser could transform the lives of recovering alcoholics in the United States, where 88,000 people die every year from alcohol-related causes. The device – which has been given premarket clearance by the Food and Drug Administration for medical use – avoids the need for costly and time-consuming lab tests. The user blows into the device which then takes a photo to verify their identity and sends the result to their doctor via a secure server. Any positive results, which might occur because of the use of mouthwash containing alcohol, trigger an alert to re-test.
"Smart" Surgical Stitches
Surgical thread used in operations which can send a text message to medical staff that an infection is brewing could revolutionise healthcare. Researchers at Tufts University in Boston have coated threads with nano-scale sensors to detect temperature, pH changes and whether stitches are under strain inside a wound. They say that the technology could also be used for surgical implants, "smart" bandages and even hip replacements. So far the threads have been tested in animals, but the researchers are now looking for volunteers to trial the stitching at skin level.
(Photo caption: The Cupris otoscope is used to capture and share images of a patient's eardrum to get a remote diagnosis from a doctor © Cupris Ltd )
Producer: Paula McGrath