Main content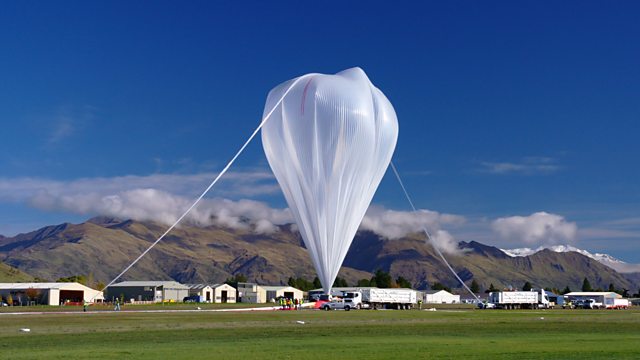 Balloons and How they Changed the World
Balloons and the importance of their impact on human affairs: from adventure and war to launching satellites and life-saving surgery.
A small toy balloon floating free into the sky. A giant hot air balloon filled with passengers peering down at the ground. Classic images, but what about the huge balloons now being developed to help us explore outer space? Or the tiny balloons which bio engineers inflate inside your body to help blood surge through your veins? Or the extraordinary balloonomania that spread across Northern Europe in the late 18th century? Bridget Kendall explores the colourful history of the balloon and its even more intriguing future with guests:
Debbie Fairbrother, Chief of NASA's Balloon Programme Office.
Professor Claudio Capelli, cardiovascular engineer from the Great Ormond Street Hospital for Children in London.
Fiona Stafford, Professor of literature from Somerville College, University of Oxford.
Photo: NASA's super pressure balloon is designed for long-duration flights at mid-latitudes to provide scientists and engineers with a means to inexpensively access the 'near-space' environment for conducting research and technology test missions. The balloon's operational float altitude is 110,000 feet (33.5 kilometers) (Credit: NASA/Bill Rodman)
Last on

BBC World Service
except News Internet
Debbie Fairbrother
Chief of the NASA Balloon Programme Office (BPO). She is responsible for management of the NASA Scientific Balloon Programme Office, and the Columbia Scientific Balloon Facility located in Palestine, Texas.

She is an Associate Fellow in the American Institute of Aeronautics and Astronautics, and has received several NASA awards for her ballooning activities.
Dr. Claudio Capelli
Research fellow at the UCL Institute of Cardiovascular Science in the Clinical Cardiovascular Engineering Team at the Great Ormond Street Hospital for Children. His research employs experimental and computational techniques and 3D printing technology to model cardiovascular diseases and devices and to study the function and performance of the heart. He Investigates devices, such as catheter balloons, used during cardiovascular procedures including angioplasty and examines how these devices work under realistic working conditions using computer modelling.

You can see one of his simulated images in the gallery on the right-hand side of this page.
Prof. Fiona Stafford
Professor of English Literature at Somerville College, Oxford, where she studies English, Irish and Scottish Romantic poetry and literature. Her current interests include research into William Wordsworth's Lines written a few miles above Tintern Abbey in the UK, the literary significance of rivers, the difference between landscape and place, and the links and contrasts between English, Irish and Scottish literature.

Whilst researching an early romantic literature project, Fiona came across many references to balloons and became fascinated by the 'balloonomania' raging across France and Britain that was reflected in  the literature and poetry of the time.
Broadcasts
BBC World Service

Americas and the Caribbean

BBC World Service

except News Internet

BBC World Service

except News Internet