Main content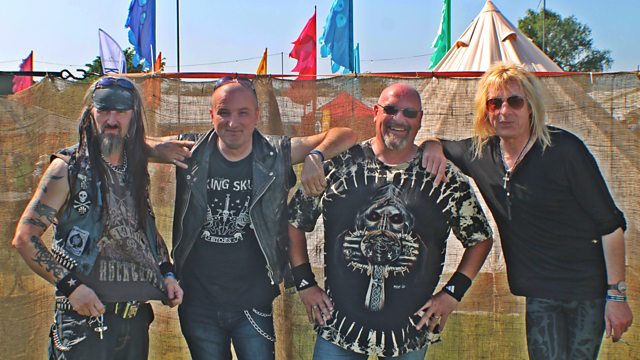 Andrew Marston introduces Stone Cold Killers (Evesham)
Unsigned, undiscovered and under-the-radar music, as recorded at the Wychwood Festival on Cheltenham Racecourse.
Music Played
Performing at the Drunken Monkey Rock Festival

Interviewed

In session at the Wychwood Festival

Performed at Glastonbury

In the news

Interviewed

In session at the Wychwood Festival
In session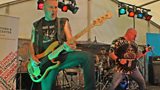 Evesham's Stone Cold Killers formed in January 2014 and after an intense 12 months of writing and rehearsing, they put together their first album and they've been touring it ever since.
 
Influenced by classic rock and the new wave of British heavy metal, this band have got the look to go with the sound.
 
"Like the evil lovechild of ACDC and Guns 'n' Roses - these guys ROCK!" - Andrew Marston.
5 - 7 August: The Drunken Monkey Rock Festival nr Upton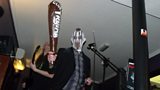 Now in its third year, this annual event is run by volunteers and more than 50 bands will be playing for free.
 
There's two stages and free weekend camping, all raising money for the Midlands Air Ambulance.
 
The event, which takes place on the Welland Road, has so far raised more than £12,000 for charity.
Features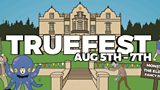 In the gig guide: The line-ups for the Drunken Monkey Rock Festival and Truefest near Hay-on-Wye.
In the news: While The One Show has been in Weobley, we've been catching up with a model-turned-musician from the black and white village.
Matt Woosey returns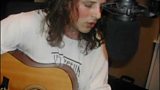 He's one of the most prolific songwriters from our area, once famously played 150 gigs in 150 days and has recently released his eighth studio album.
 
Matt Woosey returns to his hometown of Malvern, this Friday night, to perform at the Coach House Theatre having met, married and moved in with a German woman.
 
His live shows are currently darting between folk, roots, ambient and electronica - plus he's discovered a new niche - playing in people's living rooms!
 
"I've played in golf clubs. I've played on boats. I've played with an Ann Summers party in the corner. I've played to the barman. I've done the toilet tour of the UK a hundred times. If there's a five-square-mile radius I haven't played in Britain, I'd be shocked. I've had the worst possible gigs, and I've had the most amazing ones."
BBC Introducing at the Wychwood Festival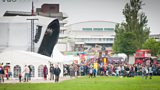 For the last few years, we've been taking over one of the main stages at the Wychwood Festival, on Cheltenham Racecourse, showcasing some of the very best acts from across Herefordshire & Worcestershire.
 
It's a relationship that began with the seven counties that surround Gloucesteshire all putting forward their favourite acts - a competition, it seems, that we have won!
 
Once again, we encountered blistering heat as the sun shone down on the Prestbury Hills and welcomed five acts, to the stage, who we'll be broadcasting through July and early August.
The story of Quill
A Worcestershire band, who've been together since the 70s, will be performing tracks from their new album Brush With The Moon at the Artrix in Bromsgrove next Saturday.
 
Quill, whose members have gone on to work with bands such as The Move and ELO, are currently on tour in the Stand Up & Rock show with Jasper Carrott.
 
But three years ago, their bassist - who was married to the lead singer - died of a heart attack, leaving the future of the band in question.
 
After an emotional couple of years, the group decided to complete some of Ben Brain's unfinished tracks - creating a whole new album of original songs along with artwork that he'd painted in his spare time.
 
His wife, Joy, has subsequently become a full time songwriter.
Glastonbury: Years and Years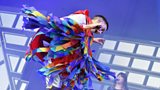 They topped the BBC Music Sound of 2015 list and now Years & Years have just played their second Glastonbury Festival.
 
Lead singer Olly Alexander studied Performing Arts at Hereford College Of Arts and became the band's lead singer after meeting at a house party and was overheard singing in the shower!
 
He then went on to support last year's BBC Music Sound Of winner Sam Smith.
BBC Introducing at Lakefest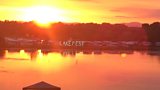 BBC Introducing in Hereford & Worcester supports unsigned, undiscovered and under-the-radar musicians from Herefordshire and Worcestershire.
 
Since 2011, we've been taking the show out on-the-road showcasing the very best musicians from our area.

Our next recording session takes place from Friday 12 - Sunday 14 August at 
Lakefest
 on Eastnor Deer Park where we'll be showcasing several acts who we've been playing on BBC Hereford & Worcester recently. 
We'll bring the bands - all we need now is the fans! 
None of these artists knew they were being considered for a live session - they were chosen based on the tracks they 
uploaded to us
.