Main content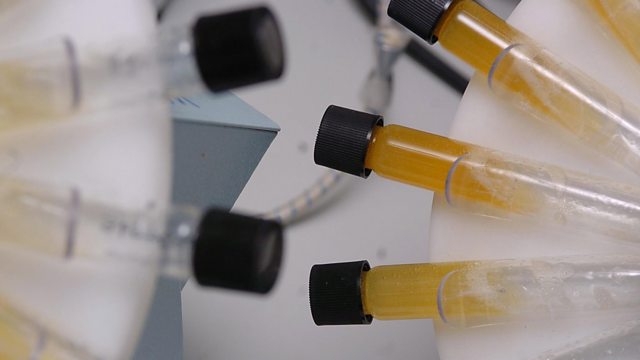 Drug Abuse in Athletes
Drug abuse in athletes; Why elite athletes often get ill; actigate; Oldest cancer; Going Lean: Health and the Toyota Way; Cloned sisters of Dolly
Much of the Rio Olympics build-up in the last few weeks has centred round drug abuse. The recent report from the World Anti-doping Agency has resulted in 67 Russian athletes being barred, as well as bans for swimming, canoeing, and sailing. Adam Rutherford visits the Drugs Control Lab at King's College London to meet its director David Cowan. He ran the drugs testing lab at the London Olympics four years ago and discusses how science is addressing new methods to evade detection.
Helping Athletes Avoid Infections
Elite athletes are particularly vulnerable to common infections during intensive training and competitions - and any illness means time off training and, potentially, the difference between winning and losing an Olympic medal. Dr Anita Biswas, senior sports physician at the English Institute of Sport, explains to Dr Graham Easton how she helps athletes avoid infections.
actigaze
Do you still need your mouse to click or could you just use your eyes to select a command or chose a webpage? This could be the next big thing after touch screens? Roland Pease has been testing out "actigaze" software that could make eyeballing web pages more natural.
Cancer Found in Ancient Human Ancestor's Foot
The earliest evidence of cancer in the human fossil record has been discovered in a cave in South Africa. The aggressive tumour was found in a 1.7 million-year-old toe from an ancient human ancestor. The toe belonged to one of the early hominins, either Homo ergaster or Paranthropus robustus. The researchers said the findings clearly show cancer is not a disease of modern society, as some people claim. The new discovery was made in a toe bone from Swartkrans cave in the Cradle of Humankind World Heritage Site near Johannesburg. Data, published in the South African Journal of Science, showed the metatarsal had osteosarcoma - a rare and deadly form of bone cancer.
Going Lean: Health and the Toyota Way
Dr Kevin Fong explores the concept of 'lean' in healthcare. He visits Toyota's largest car assembly plant in the United States and discovers how the company's legendary management philosophy – the Toyota Production System – is being implemented in hospitals, in an effort to improve patient care. Toyota's philosophy of continuous improvement aims to increase quality and flow whilst decreasing cost. But whilst this may work well for the mass production of cars, can it really improve the care of individual patients?
Cloned Sisters of Dolly
Dolly the cloned sheep had a number of health problems. Professor Kevin Sinclair of Nottingham University and colleagues has now cloned sisters of Dolly to see if they have the same issues. He has been talking about it to BBC's Science correspondent Jonathan Amos.
(Photo image: A urine sample being tested for drugs at Drug Control Centre at King's College London © Press Association)
The Science Hour was presented by Gareth Mitchell with comments by James Gallagher, Science Reporter, BBC News online
Editor: Deborah Cohen
Last on
BBC World Service
South Asia
Broadcasts
BBC World Service

Australasia

BBC World Service

except News Internet

BBC World Service

Australasia

BBC World Service

South Asia