Main content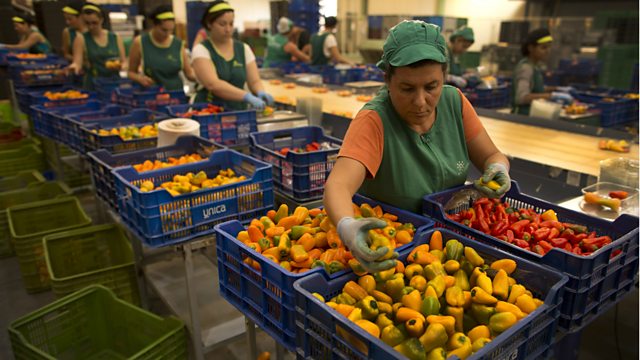 Food on the Move: What We Want, When We Want It
How does our food move around the world?
Fruit in the summer, grain in the autumn - our diets once consisted of eating what was around us and what was in season. But we now live in a global food village, where in many countries the idea of eating seasonally has been consigned to history. In the 21st Century we ship, fly and truck our food supply across huge distances. Britain, for example, imports 90% of its fresh fruit.
The BBC's Mike Johnson is dockside at one of Europe's biggest ports to hear how - and why - the world is racking up the food miles. Ross McKissock at the Port of Tilbury outlines the importance of the food trade to the port business. We step inside a vast refrigerated warehouse and ask Dale Fiddy of NFT Distribution if the new facility is a sign that the industry is on the up?
Technological advances have made their mark on the way our food has moved over the centuries - Susanne Freidberg, professor of Geography at Dartmouth College, takes us back through time with the history of food transportation.
We hear from a vegetable packing plant in Kenya, which leads the world in terms of exports of fresh produce by air.
Shipping food over vast distances is now an established part of global trade, but does it really make financial sense? Washington economist and expert on international shipping, Marc Levinson explains the economics of moving food in huge volumes.
And, could it actually be good for the environment? A question for Kath Dalmeny from environmental group, Sustain.
(Photo: Factory workers sort out creates of peppers. Credit: Sergio Camacho/Getty Images)
Clips

Broadcasts

Podcast
The Food Chain examines the business, science and cultural significance of food, and what it takes to put food on your plate.