Main content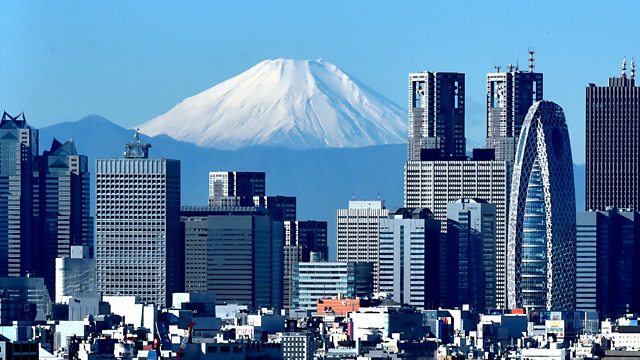 The Unpredictable Planet: Understanding Volcanoes and Earthquakes
New ideas about volcanoes, earthquakes and other geological processes are debated by Jack Stewart and scientists Tamsin Mather, Michihiko Nakamura, Carl Spandler John VanDecar.
New ideas about volcanoes, earthquakes and other geological processes that both enrich and threaten us. Jack Stewart is joined by four leading Earth scientists in the city of Yokohama at the 2016 Goldschmidt Conference - volcanologists Tamsin Mather and Michihiko Nakamura, plate tectonics expert Carl Spandler and seismologist and Nature magazine editor John VanDecar.
(Photo: Mount Fuji in Japan. Credit: Getty Images)
Last on
BBC World Service
Australasia
Tamsin Mather
Tamsin Mather is a volcanologist and Professor of Earth Sciences at University of Oxford. She explains how satellite monitoring is helping us to understand better what goes on deep inside volcanoes.
Michihiko Nakamura
Michihiko Nakamura is Professor of Earth Science at Tohoku University in Japan and director of the Volcanology and Geofluids Research Group. His magma experiments in the lab are designed to improve predictions of how intense future volcanic eruptions might be. 
Carl Spandler
Carl Spandler is an Australian Research Council Future Fellow and Head of Geology at James Cook University, Townsville Australia. His discoveries of ancient continental crust fragments at Vanuatu shed new light on what makes the Earth a unique, life-sustaining planet. 
John VanDecar
Seismologist and Senior Editor at Nature magazine John VanDecar describes new ways of measuring how the sea floor moves. This should help us pinpoint the areas where major earthquakes are likely to occur.
2016 Goldschmidt Conference
Programme was recorded at the 2016 Goldschmidt Conference which brings together thousands of scientists to talk about subjects including the origin of the Earth and planets, the chemical processes that have shaped Earth's evolution over time, the interconnections between life and the physical world, the search for new resources, and the environmental challenges facing today's world. The conference is named in honour of Victor M. Goldschmidt (1888 - 1947), whose classification of the behaviour of the elements in the Earth and meteorites laid the basis of modern geochemisty.
Broadcasts
BBC World Service

except Americas and the Caribbean, Australasia & News Internet

BBC World Service

Americas and the Caribbean

BBC World Service

except News Internet

BBC World Service

except News Internet

BBC World Service

Australasia