Main content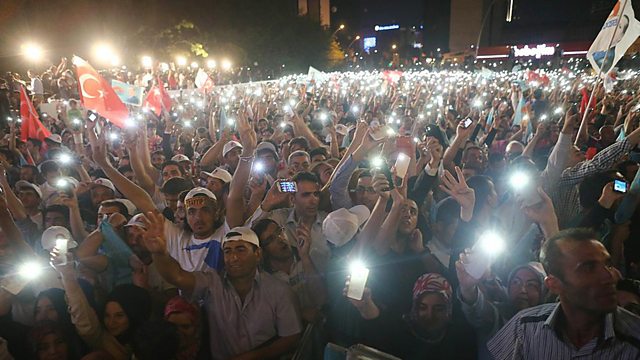 Turkey's Attempted Coup and Social Media
Turkey's attempted coup and social media; Network Mapping Istanbul; Apple's film delete patent; GPS: Pinpoint
Social media was briefly blacked out during the failed coup in Turkey. In past years the president has denounced social media but in the last week he has gone on Twitter and FaceTime to encourage his supporters to come out onto the streets to back him. Click talks to Arzu Geybullayeva from Global Voices.
Network Mapping in Istanbul
In each human brain, there are about 86 billion neurons interacting with each other. Visualising such complex networks, with their incredibly high number of elements and the various different forms of interaction between them, seems like quite a challenge. Some artists, however, find it stimulating and inspiring. The New York and Istanbul based artist and technologist Burak Arikan is tackling this challenge with his platform graph commons. Julia Lorke visited Burak in Istanbul to hear more about the interactive mapping tool and how the tense political climate in Turkey inspired him to discover new applications for this tool.
Will Apple's New Patent Push Delete on Ability to Record Police?
Apple has patented a tool which may be able to use a laser to block smart phones from recording footage. Might this be used by police forces in the future to stop citizens from recording overzealous policemen carrying out arrests and using force beyond that which is reasonably required? Click hears from Nicole Ozer from the American Civil Liberties Union.
GPS: Pinpoint
Click looks at the history of GPS (the Global Positioning System). This space-based navigation system uses satellites to provide location information anywhere on Earth, where there is an unobstructed line of sight to the relevant satellites. So how ubiquitous has the use of GPS become in everyday navigation? It has been almost impossible to get lost - since the first iPhone equipped with GPS tracking and mapping was released in 2008. Click talks to Greg Milner, the author of a new book called Pinpoint, to find out more.
(Photo credit: Adem Altan/AFP/Getty Images)
Producer: Colin Grant