Main content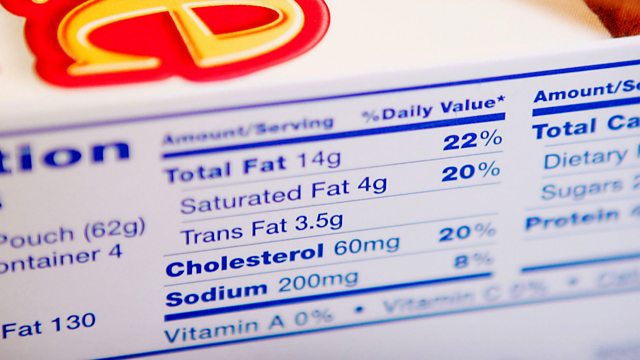 Do You Know What You're Eating?
When you pick a packet off a supermarket shelf, do you understand the small print? And do you believe it? With Chris Elliott, Jérôme Malavoy and Monique Raats.
If you think of your favourite foods – chocolate, maybe, or samosas, or pizza – do you really know where all the ingredients came from? Bridget Kendall asks the food scientist Chris Elliott, the software designer Jérôme Malavoy and the food labelling expert Monique Raats.
Photo: The food label on a box of brownies (Getty Images)
Last on
BBC World Service
Australasia
Chris Elliott
Professor Chris Elliott is the Chair of Food Safety and Microbiology at Queen's University Belfast and Director of the Institute of Global Food Security. He was appointed to his high profile role by the British Government three years ago, shortly after the scandal when horsemeat was fraudulently passed off as beef. His work involves developing innovative techniques to provide early warning of threats of contaminants across the entire fresh water and food supply chains. 
Jérôme Malavoy
Jérôme Malavoy is the founder and chairman of Transparency One, a company that provides software solutions to improve the transparency of the food supply chain. The software architecture approach is very similar to how social media, like Linked In, is designed. With current systems, if you are a large brand or retailer selling processed food, you will probably know who your primary supplier is, but you won't know about the second and third tiers of the supply chain, which is often where most of the problems arise. So this software is able to gather in the information of all the multiple suppliers using a networking system, and help track all the thousands of different products that have gone into different brands.  Jérôme is also the founder of Trace One, a company that advises retailers and suppliers worldwide on food certification and choice of ingredients. 
Monique Raats
Professor Monique Raats is an expert on food labelling and nutrition policy, and the Director of the Food, Consumer Behaviour and Health centre at the University of Surrey. Monique's work has involved making sure front of pack nutrition labelling around the world is consumer friendly, and monitoring and evaluating nutrition and health claims made on labels. But her studies also show the consumer doesn't always pay attention to what it says on food labels. Monique has also co-edited two books The Psychology of Food Choice and Food for the Ageing Population.  In 2011 Monique joined the UK's Scientific Advisory Committee on Nutrition and is a member of its Subgroup on Maternal and Child Nutrition. 
Broadcasts
BBC World Service

except Americas and the Caribbean, Australasia & News Internet

BBC World Service

Americas and the Caribbean

BBC World Service

except News Internet

BBC World Service

except News Internet

BBC World Service

Australasia