Main content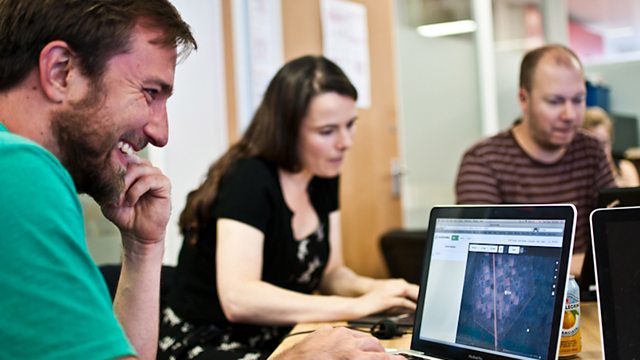 MSF's MapSwipe to the Rescue
MSF's MapSwipe; Taking the heat out of Bitcoin; Serving up data at Wimbledon; World's first online violin school
On Friday 15 July Médecins Sans Frontières (MSF) launches its first mobile phone app, 'MapSwipe' in which people across the globe can locate communities in remote parts of the world affected by national disasters, disease outbreaks or conflicts. Users choose a crisis affected part of the world they want to help then swipe through satellite images of the region and tap the screen whenever they spot a feature they are looking for – such as houses or roads. This information is fed back to 'mappers' who turn the information into a map. Click talks to MSF's Pete Masters.
New Bitcoin
Researchers have come up with a way of reducing the amount of energy used by blockchain technology upon which the virtual currency bitcoin is based. Click hears from an IT expert at Ruhr University, Bochum in Germany, that though revolutionary it is actually quite simple.
Wimbledon's Digital Data Obsession
Digital technology has completely changed the way viewers appreciate tennis. On the credit side, huge amounts of data are now made available to enhance the fans enjoyment, and to aid players in their strategy for future games. Wimbledon, as Colin Grant reports, has been at the forefront of this development.
ViolinScool.org: World's First Online Violin School
Last month saw the launch of the world's first online violin school. This innovative and unprecedented education initiative is the brainchild of the internationally renowned violin virtuoso Simon Hewitt Jones and a team including David Worswick, a first violinist in the London Symphony Orchestra. ViolinSchool.org aims to build the world's most comprehensive digital hub for learning and playing the violin. Simon Hewitt Jones joins Click to give Gareth Mitchell a lesson.
(Photo caption: MSF volunteers doing some mapping © Adam Scott Hinchliff/HOT)
Producer: Colin Grant