Main content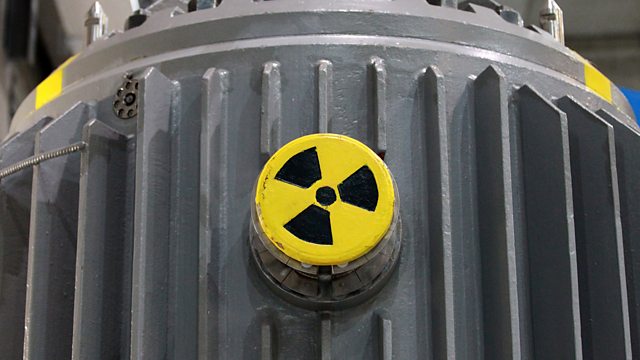 Radioactivity: Friend or Foe?
Separating the benefits of radioactivity from its dangers, with Timothy Jorgensen, Melissa Denecke and Nicolas Prantzos
One of the first things that comes to mind when thinking of radioactivity is often a nuclear accident or dangerous rays. But radioactivity is in fact a much more varied phenomenon, one that can bring us great benefits as well as put us in danger. With help from three experts, Rajan Datar looks for a more nuanced picture of the role radioactivity plays in our lives.
Photo: A symbol for radioactivity is visible on a radioactively-contaminated container. (Getty Images)
Last on
BBC World Service
Australasia
Timothy Jorgensen
Timothy Jorgensen is a molecular radiation biologist at Georgetown University in Washington DC where he specialises in cancer epidemiology and public health. He studies how human cells repair radiation-induced DNA damage and what makes some cancer cells resistant to radiotherapy. His latest book is Strange Glow, The Story of Radiation.
Melissa Denecke
Melissa Denecke is the Scientific Director of the Dalton Nuclear Institute at the University of Manchester. Her research on the structure of radioactive elements at the atomic level has important implications for the deep geological disposal of radioactive waste and assessment of contamination legacies. She is also a world leader in the application of synchrotron-based X-ray techniques to actinide speciation investigations.
Nicolas Prantzos
Nicolas Prantzos is a Research Director at the Paris Astrophysical Institute with special interest in high-energy astronomy, the science of detecting and analysing X-rays, gamma-rays and similar types of highly energetic electromagnetic radiation. This includes gamma-ray bursts from supernovae, some of the most powerful phenomena that we have observed in the entire universe.
Broadcasts
BBC World Service

except Americas and the Caribbean, Australasia & News Internet

BBC World Service

Americas and the Caribbean

BBC World Service

except News Internet

BBC World Service

except News Internet

BBC World Service

Australasia