Main content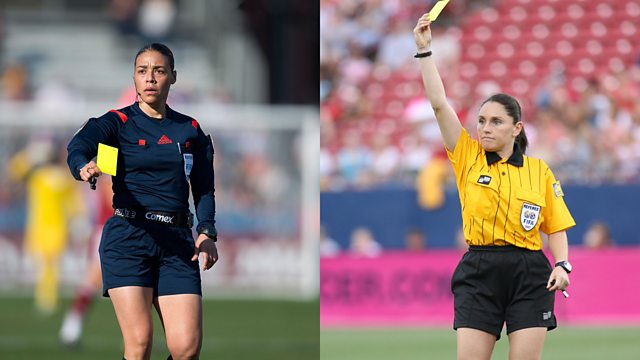 Football Referees: Melissa Borjas Pastrana and Sandra Serafini
Women football referees from Honduras and Canada on controling 22 players when fights break out and learning to laugh off sexist insults.
Kim Chakanetsa brings together top female football referees to discuss their passion for the game, the demands of rigorous fitness training and how they handle aggressive players.
Melissa Borjas Pastrana was inspired to follow in her uncle's footsteps to become a referee. Melissa, who lives in the Honduran capital, Tegucigalpa, referees men's games in Honduras and women's games at Fifa level. Melissa reveals how you have to be good at psychology to succeed as a referee, because you are managing 22 players on the pitch as well as the support staff and the fans in the stadium.
Sandra Serafini grew up in a football obsessed household in Canada and from a young age was a keen player. When she discovered that her talents lay more with officiating rather than playing she began to referee at men's and women's games at an amateur level, until eventually she turned professional and joined Fifa in 2006. For much of her career she has combined refereeing football matches with neurosurgery, her work as a neuroscientist helps her to understand why things can go wrong in a game and how to try and fix them. She now works with the Professional Referee Organisation where she coaches the next generation of female referees.
(Photo: Melissa Borjas Pastrana (L) Credit Omar Martinez. Sandra Serafini (R) Credit Dominic Chan)
Clips