Main content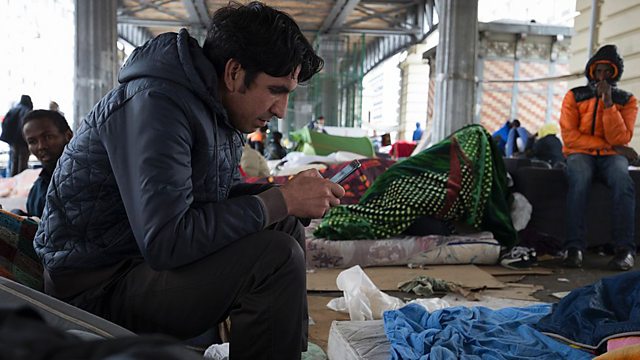 How Technology is Helping Refugees
Techfugees and Basefugees; Games for Change; Do robots think?; Ceramic archive
Techfugees is a social enterprise co-ordinating the international tech industry's response to the needs of refugees. It focusses on improving life for refugees by developing technologies in five areas: infrastructure, education, identity, health and inclusion. The Techfugees global network of volunteers creates non-profit conferences, hackathons, and meet ups across the world, working predominantly with the business and tech sectors, in partnership with NGOs and government institutions. It has just launched an online platform, Basefugees, which connects NGOs with tech solutions. Basefugees enables NGOs to find technical support for their projects, and for refugee related tech projects to be endorsed and deployed by NGOs.
Games for Change
While some may see video games as being male dominated and violent, an organisation in New York has been working for the past 12 years showcasing what else can be done with games. They held a festival last week called Games for Change and Click's Lauren Hutchinson was in New York to find out more.
Do Robots Think?
Do robots think? Do robots hear? Can robots fall in love? These are just some of the questions that school children and teenagers are debating at the University of Reading in the UK. As technology advances young people will have to deal with very different robots from the ones we have today and how they deal with some of the issues that arise will be key to their grown up world.
Ceramic Archive
Losing digital data is nothing new – from photos to files it is easy to either delete them or lose them because of technology failure. So how can we secure our archives for future civilisations? One idea, the Memory of Mankind, is to store some of our data on ceramic tiles in a salt mine in Austria. Marnie Chesterton has been investigating how viable this might be.
(Photo: A migrant checks his mobile phone in a makeshift camp of refugees and migrants. Credit: Joel Saget/AFP)
Producer: Ania Lichtarowicz
Last on
Broadcasts
BBC World Service

except East and Southern Africa & News Internet

BBC World Service

Americas and the Caribbean

BBC World Service

Online, Europe and the Middle East & UK DAB/Freeview only

BBC World Service

East Asia & South Asia only

BBC World Service

Australasia

BBC World Service

East and Southern Africa & Europe and the Middle East only

BBC World Service

except News Internet