Main content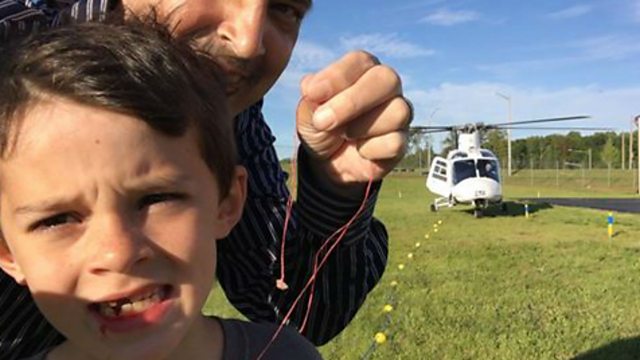 Father removes son's tooth with helicopter
A pilot from Virginia removed 7 year old tooth by tying it to his helicopter. Rick Rahim flies helicopters for a living and decided to take out his son Carson's tooth in a unique way, and posted video of his antics online.
Rick said: "We connected rope to fishing wire and tied that to his tooth. I got in the helicopter and up, up, and the tooth went away".
He lifted the helicopter 5-10 feet in the air and backed away, removing the tooth. Rick tested the method before using it on his son: "We had one lady say, 'if it doesn't break you'll lift him up in the air!' - but we ran tests and the only thing that could have broken would be the fishing line".
This clip is originally from 5 live Drive on Monday 20 June 2016.
Duration:
Featured in...
The best current affairs interviews, insight and analysis from BBC Radio 5 live.