Main content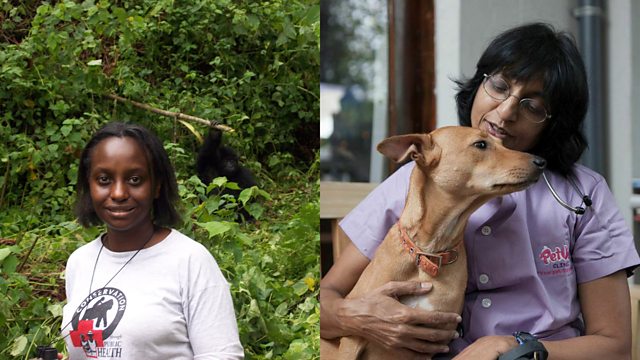 Vets: Dr Gladys Kalema-Zikusoka and Dr Nalinika Obeyesekere
How do you get a giraffe to Uganda by plane, and why is it controversial to put an animal out of its suffering in Sri Lanka? Find out from two female vets.
Kim Chakanetsa brings together leading women vets from Uganda and Sri Lanka to talk about their careers and their trickiest challenges.
As a new vet graduate, Dr Gladys Kalema-Zikusoka was made chief veterinary officer of the Ugandan Wildlife Service. She set about restocking her country's national parks with giraffes and lions following years of civil war, but it was the endangered mountain gorillas that really captured Gladys' heart. She now leads her own charity Conservation Through Public Health, which looks after both the health of the gorillas and the people who live near them, who are crucial to their survival.
Sri Lankan vet Dr Nalinika Obeyesekere prefers to treat smaller creatures such as cats and dogs. Nalinika grew up looking after her parents' adopted animals, everything from fish to a leopard cub! But she soon decided that working with wildlife was not for her, and instead started up her country's first multi-doctor veterinary practice. Nalinika is passionate about improving training and education around animal care, and she uses a portion of her profits to provide free treatment for Colombo's huge stray dog population.
(Photo: (L) Dr Gladys Kalema-Zikusoka. (R) Dr Nalinika Obeyesekere)
Clips

Broadcasts
BBC World Service

Online, Europe and the Middle East, UK DAB/Freeview & South Asia only

BBC World Service

except East and Southern Africa, News Internet & West and Central Africa