Main content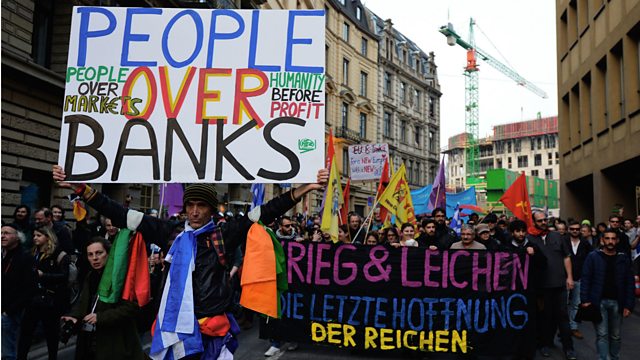 Who'd be a Banker?
Are fears of a banking 'brain drain' exaggerated? Despite the long hours, tarnished reputation and attacks on pay, graduates are still applying for banking jobs in huge numbers.
The world's biggest banks were once a by-word for power, authority, and enormous wealth. Nowadays for some of us, in the wake of the financial crisis, they are a symbol of corporate greed, brutal working hours, and mismanagement.
Many of them are shedding tens of thousands of jobs, and have been forced to water down pay and bonuses as part of an increasing tide of regulation. Some observers say that's resulted in a 'brain drain' from financial services, as a growing number of graduates are lured instead to Silicon Valley and the appeal of flexible hours and often greater financial reward.
But is this talent shift exaggerated? Earlier this month Goldman Sachs said it had received more than a quarter of a million applications from students and graduates for jobs this summer, a jump of 40% since 2012. So why do so many still want to join the investment banking ranks?
Max Kaupp-Roberts, aged 23, tells Ed Butler why he joined Goldman Sachs' London office but quit after less than two years. They are joined by another two former investment bankers: Alexandra Michel, a professor at the University of Pennsylvania, who's been researching banking culture for more than a decade; and Christian Dummett, head of finance programme careers at London Business School.
(Picture: Anti-bank protesters in Germany. Credit: Thomas Lohnes, Getty Images)
Clips