Main content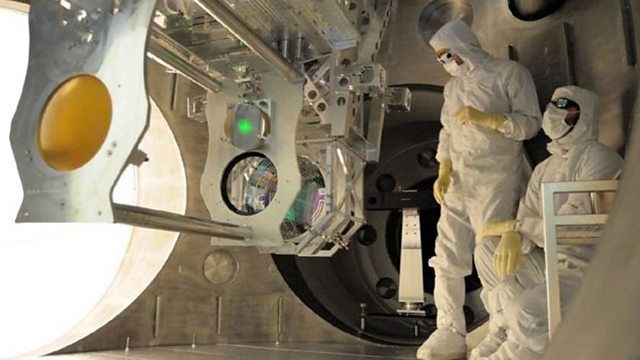 Gravitational Waves
Gravitational Waves; El Niño; Zoonotic diseases; The Selfish Gene; Mapping the Ocean Floor; T-rays and Chips; Saving China's Birds
Gravitational waves, ripples in the curvature of space time predicted by Einstein in his General Theory of Relativity, have been detected for a second time. Professor Sheila Rowan, Director at the Institute for Gravitational Research, explains what is new about these latest gravitational waves.
El Niño
Forecasts from the UK Met Office say carbon dioxide levels have seen a surge in recent months as a result of the El Niño climate phenomenon, which has warmed and dried the tropics. Professor Richard Betts explains.
Zoonotic Diseases
Infectious diseases such as Zika originate in animals. Another is Middle Eastern Respiratory Syndrome which originates in camels. Researchers have just highlighted which animals are harbouring them.
The Selfish Gene
40 years ago, The Selfish Gene, by Richard Dawkins was published. In it, Dawkins explains that the gene is the unit of natural selection. Adam Rutherford discusses the impact of The Selfish Gene with Richard Dawkins and Yan Wong.
Mapping the Ocean Floor
We know more about the surface of the moon than we know about the ocean floor. Roland Pease reports on the latest meeting of cartographers in Monte Carlo to discuss plans to map the ocean floor by 2030.
T-rays and Chips
Terahertz radiation, or T-rays, which can be used to scan for tumours and weapons and can even see though solid objects were thought to have limitations with high imaging resolutions. Researchers have developed a new terahertz camera that can see at a microscopic level.
Saving China's Birds
Ann Jones flies north to Shanghai as shorebirds from as far away as Australia, Indonesia, Thailand, Myanmar and Bangladesh arrive on the coast of the Yellow Sea. She reports on efforts to save the birds.
(Photo caption: The LIGO labs fire lasers through long tunnels to sense passing gravitational waves © NSF/LIGO)
The Science Hour was presented by Gareth Mitchell with comments from BBC Science Correspondent Jonathan Amos
Producer: Colin Grant
Last on

BBC World Service
South Asia
Broadcasts
BBC World Service

Australasia

BBC World Service

except News Internet

BBC World Service

Australasia

BBC World Service

South Asia