Main content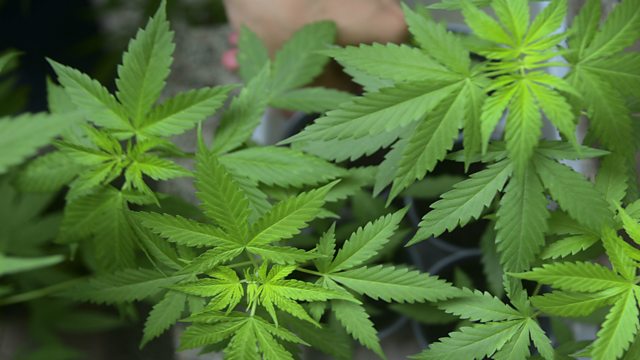 The Cannabis World Congress is Held in New York
Twenty-five US states have approved cannabis-based products for medicinal use and four have legalized it for recreational use. We hear from the Cannabis World Congress in New York
Cannabis is a growing industry in America. The use, possession, sale, cultivation and transportation of cannabis is illegal under federal law. But individual states can pass a law to decriminalize cannabis for recreational or medical use as long as they've set up an approved regulatory system. As a result, 25 states - half the nation - have approved cannabis-based products for medicinal use - and four, so far, have legalized it for recreational use. We get an update from the Cannabis World Congress in New York from our correspondent Samira Hussain.
Staying with cannabis - frustrated by the lack of proper funding for medical marijuana research, a group of scientists has launched a not-for-profit Institute for Research on Cannabinoids. They're looking for cash because they're worried about the amount of insufficiently researched products out there on the shelves in those 25 states where it's legal. We speak to Marcel Bonn-Miller is Professor of Psychiatry at the University of Pennsylvania.
Can Volkswagen invent itself out of disgrace? Europe's largest car maker is aiming to get past the crisis triggered by its systematic rigging of emissions data by going electric - more than 30 fully electric cars over the next nine years. Professor Karel Williams is a car industry researcher at the Manchester Business School in the UK and we ask him if VW is right that there's a market for electric waiting out there.
The annual Mo Ibrahim Foundation Prize is awarded to a former African executive head of state or government - who was democratically elected, who served his or her constitutionally mandated term and while in office displayed outstanding leadership and commitment to democracy. The last winner of the 5-million-dollar prize in 2014 was President Hifike-punye Po-hamba of Namibia but this year they couldn't find one. Why? The BBC's Alex Ritson asked the man who actually funds the prize - Sudanese billionaire telecoms entrepreneur Mo Ibrahim.
Is workplace email an invaluable tool or a pain in the you know where? What would happen if we just got rid of it? The Rarely Impossible Company makes apps for mobile phones - and has tried just dumping email from the office. The result, they say is a huge increase in staff productivity. Lee Mallon has been telling the BBC's Paddy O'Connell what it's like working without constant electronic interruptions.
A project is being launched in Scotland that scientists hope will reveal the secrets of the deep Atlantic Ocean. The Atlas Project involves 24 research institutions from around Europe and North America and will spend four years studying the deep sea, exploring little known ecosystems and measuring the changing ocean currents that have an impact on our climate. Victoria Gill reports.
Disney has mounted a huge charm offensive in China. The company's been entertaining more than a thousand Communist Party officials at a special event as it prepares to open its first theme park in the country. But there's been criticism about how much visitors will be charged as Robin Brant explains from Shanghai.
And with us for the duration of the programme are Mashable's Jason Abbruzzese in New York and in Mumbai, Paranjoy Guha Thakurta of the Economic and Political Weekly.
Picture description: David Ponce, member of the Colombian cannabis community, checks his marijuana plants
Photo credit: RAUL ARBOLEDA/AFP/Getty Images
Last on
BBC World Service
except News Internet
Broadcast
BBC World Service

except News Internet