Main content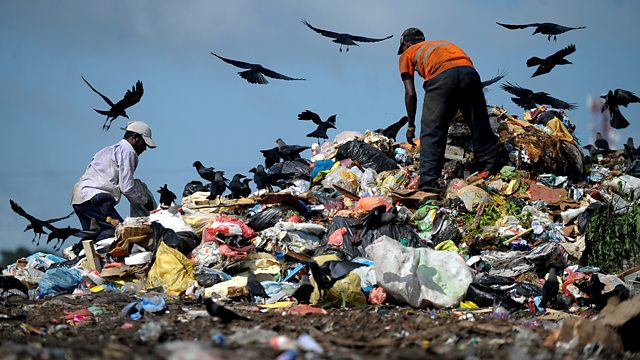 Talking Rubbish: Clever Ways with Waste
How we can use waste more efficiently and more creatively with a garbologist, an international waste expert and a taxidermist.
According to the United Nations, we probably throw away over one billion tonne of waste every year. Some goes into landfill, some is destroyed and some is recycled. The mountain of cast-off litter is not just a huge environmental challenge, but a logistical one as well. Bridget Kendall explores ideas about how to harness waste with - Martin Medina, a global waste consultant, who suggests scavenging might be the answer to developing country's growing waste problems; Dr Tom Licence, an historian at the University of East Anglia and 'garbologist', who uses archaeological beachcombing for historical rubbish to unveil our detailed past; Polly Morgan an artist who uses taxidermy to ascribe new meaning to what was once discarded and dead.
(Photo: A rubbish tip in Kolonawa suburb of Colombo, Sri Lanka. Credit: Getty Images)
Last on

BBC World Service
Australasia
Martin Medina
Martin Medina is a Senior International Relations Specialist focusing on global waste management policy and practice. He works for the US National Oceanic and Atmospheric Administration and specialises in international cooperation on the use of satellites for weather forecasting, environmental monitoring and disaster management. Martin is originally from Mexico and has worked on waste management and policy issues with academic, nongovernmental and international organizations in Africa, Asia, Latin America and the Middle East for 15 years. He is particularly interested in approaches that promote community participation and reduce poverty in developing countries. 
Polly Morgan
Polly Morgan is a British artist and taxidermist. Born in Banbury, Oxfordshire, Polly moved to London where she met artists Dinos Chapman and Noble & Webster who encouraged her art.  She uses dead things that others find redundant and 're-awakens' them into pieces of art that speak to contemporary culture.

And you can see some of Polly's art in the gallery on the right-hand side of this page. 
Tom Licence
Tom Licence is a Historian and Senior Lecturer in Medieval History at the University of East Anglia. He specialises in ecclesiastical history, with a particular interest in monastic history in the central Middle Ages. He's currently working on a new biography of Edward the Confessor commissioned for Yale English Monarchs. His hobby, however, is hunting for things.

Tom is also known as a garbologist. He systematically unearths and studies domestic detritus in order to figure out what nineteenth-century habits have to say about what consumers bought and threw away. But more than that, he says, those habits help us understand what people valued, both materially and culturally.
Broadcasts
BBC World Service

except Americas and the Caribbean, Australasia & News Internet

BBC World Service

Americas and the Caribbean

BBC World Service

except News Internet

BBC World Service

except News Internet

BBC World Service

Australasia