Main content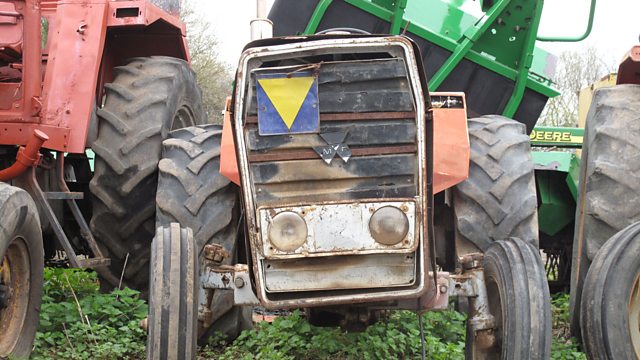 Follow That Tractor
Susie Emmett hears stories at the world's biggest monthly second-hand tractor auction.
Each month in a flat piece of English Fenland a site the size of 40 football pitches hosts the biggest second hand farm machinery auction in the world. It is both uniquely British and international – buyers from four continents arrive by truck, taxi, or hire car with their tractor shopping lists and hopes. Presenter Susie Emmett meets some of the remarkable people in this extraordinary supply chain that deal and distribute these mighty tools and spare parts from field to field.
On auction day there is anticipation before the bidding begins and high hopes of bidders – whether Portuguese first timer or Sri Lankan old hands – once the eight simultaneous auctions are underway. Amongst more than 2500 gleaming or rusty lots in lines, Susie hears how a group of Kenyans are building farming community fortunes with the tractors they buy. Somalis talk about the power of tractors to rebuild a nation. A Sri Lankan explains his favourite tractor of all and why he bought an incredible 86 of them on one auction day.
Bidding over, Susie learns about the bang-crash logistics that start the tractors' next journey. She meets the much-respected tractor dismantler whose job it is to cram as many tractors into a shipping container as he can. Susie also hears tips on how to be a better bidder, why old machinery is better than new and reflections on how the rise and ebb of conflict affects the tractor trade.
(Photo: A trusty Massey Ferguson awaits a buyer. Credit: Susie Emmett/Green Shoots Productions)
Last on

BBC World Service
Australasia
Broadcasts
BBC World Service

except News Internet

BBC World Service

except Australasia & News Internet

BBC World Service

except News Internet

BBC World Service

except News Internet

BBC World Service

Australasia