Main content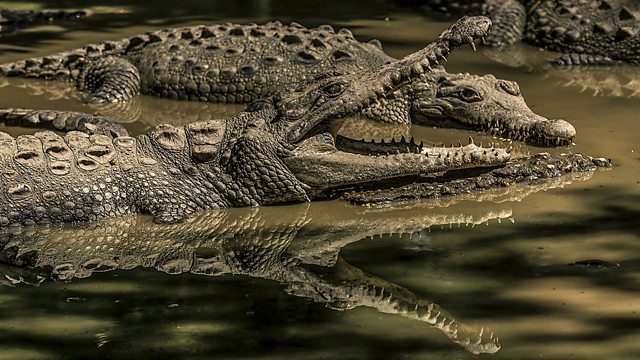 Resilience: A Survivor's Guide to Adversity
Janina Ramirez and guests discuss resilience during mass extinctions of the distant past, in China's recent history and when faced with upcoming climate change.
These days everyone from schoolchildren to business owners is being told to become more resilient, but what does resilience mean in geological time? How and why do some organisms survive mass extinctions? And, on a shorter time-scale, how do people cope with the demands of dictators? Janina Ramirez and her guests discuss how to survive adversity across time and space.
(Photo: Caiman crocodiles in San Marcos, Sucre in Colombia. Credit: Getty Images)
Last on

BBC World Service
Australasia
Frank Dikotter
Dutch Historian Frank Dikotter is Professor of Humanities at the University of Hong Kong. He is the author of The Cultural Revolution: A People's History, 1962-1976, the final instalment in the People's Trilogy, a series of books that document the impact of communism on the lives of ordinary people in China. He says that despite enforced collectivization and a ban on private enterprise, the free market survived and even flourished in some parts of China during the Cultural Revolution.
Johan Rockstrom
Johan Rockstrom is the Executive Director of the Stockholm Resilience Centre and Professor in Environmental Science at Stockholm University. He led the development of the "Planetary Boundaries" framework for human development which identified nine key Earth processes or systems and marked the upper limit beyond which our planet's natural resilience would be breached. These include climate change, ocean acidification, loss of biodiversity and chemical pollution.
Richard Fortey
Writer and broadcaster Richard Fortey is former senior palaeontologist at the Natural History Museum in London and authority on 'messengers from deep geological time': organisms such as horseshoe crabs and crocodiles that have survived almost unchanged across vast reaches of time. His books include Trilobite! Eyewitness to Evolution, Fossils - A Key to the Past and The Wood for the Trees: The Long View of Nature from a Small Wood. 
Broadcasts
BBC World Service

except Americas and the Caribbean, Australasia & News Internet

BBC World Service

Americas and the Caribbean

BBC World Service

except News Internet

BBC World Service

except News Internet

BBC World Service

Australasia