Main content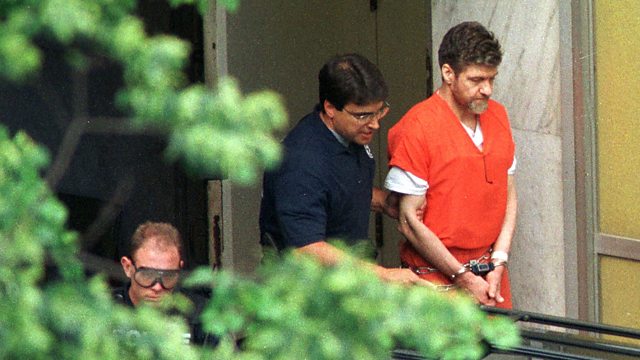 Terror and Technology: The Unabomber
How a reclusive maths prodigy terrorised America - and how the media amplified his cause.
Twenty years ago the FBI ended their longest-running domestic terrorism investigation with the arrest of the Unabomber, a notorious serial killer obsessed with technology. This is the story of a devastating fraternal dilemma, a 17-year manhunt, and a controversial media decision to publish propaganda, faced with the threat of violence.
Between 1978 - 1995, Theodore Kaczynski lived in a remote cabin in rural Montana, from where he planned the downfall of industrial society. A brilliant academic, Kaczynski was motivated by a desire to punish anyone connected with technology – from a senior geneticist to a junior computer salesman. Kaczynski made 16 bombs that killed three people and injured 23, some to a life-altering degree.
Then, controversially, America's two most prestigious newspapers, on the advice of the FBI, agreed to publish his 35,000-word manifesto – triggering a debate about media ethics that persists to this day. The gamble paid off in a most unexpected way.
Two decades on, as we continue to debate the relationship between technology and security, Benjamin Ramm revisits the extraordinary story of the Unabomber.
Benjamin meets some of the key figures in the hunt for one of America's most wanted - those he hurt, those who knew him, and those who tried to capture him. He asks what role the media played in this story and what the FBI learnt about tracking this 'lone wolf' bomber. And, alongside media reports of his crimes, we hear some of the words of the Unabomber himself, through excerpts from his extensive notes and writings.
(Photo: Theodore Kaczynski, (R-top), the convicted killer known as the Unabomber, is escorted by US Marshalls outside the Sacramento County Federal Court. Credit: Rich Pedroncelli/AFP/Getty Images)