Main content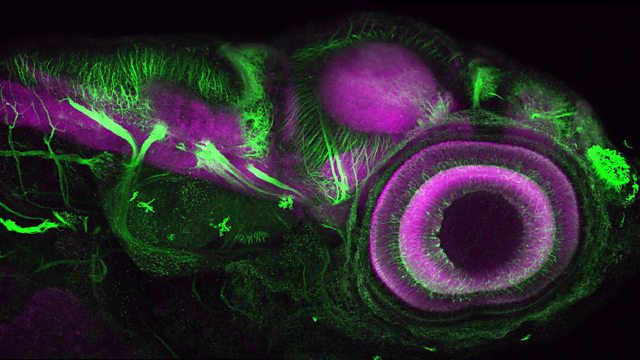 Gene Barcoding
Gene Barcoding; GM Plants; Millennium Technology Prize; After Ebola; TB Resistance; Svalbard Global Seed Vault
Scientists using the new gene editing technique called CRISPR have been able to mark and track the development of a zebrafish embryo from the very early stages to adulthood. This technique allows individual cells to be tagged, and they can then be tracked as they divide and multiply and specialise into all the cells of the adult body. This holds huge implications for understanding embryo development and stem cell activity, and not just in zebrafish. Roland speaks to Professor Jay Shendure, geneticist at the University of Washington in Seattle, who has been working on this for some time.
GM Plants
The topic of GM plants raises strong opinions and many questions. This week, the UK's Royal Society published answers to some of those questions and the US National academy of Science has also published a report. Adam Rutherford speaks to Professor Ottoline Leyser, plant science expert and Head of the Sainsbury Lab in Cambridge. She was involved in writing the responses in the RS Q+A, and Adam Rutherford quizzes her on the possible issues with GM crops.
Millennium Technology Prize
US engineer Frances Arnold has won the Millennium Technology Prize for pioneering "directed evolution". By driving a sped-up version of natural selection in the lab, the method has created new enzymes for industrial catalysts, household detergents, and even to make rocket fuel from sugar. The €1m (£0.8m) prize is awarded biennially and Prof Arnold is the first female winner in its 12-year history. It recognises developments that "change people's lives for the better". The Technology Academy Finland, which presents the prize, said the deliberations began in November 2015 but that "there was only one outstanding candidate".
After Ebola
Last November Sierra Leone was declared Ebola free. By then, the epidemic had killed over 11,000 people in West Africa. The speed at which it took off highlighted the poor state of healthcare in the affected countries. Now in Sierra Leone some of the facilities created to deal with Ebola are being repurposed, to take in wider health care needs. The capital Freetown's main hospital now has a new accident and emergency department, developed from the facilities created there to deal with Ebola. Around the country medical laboratories set up to detect and confirm Ebola cases are now being equipped with new diagnostic machines capable of detecting nearly 50 other viral diseases. BBC Health correspondent Matthew Hill has been to take a look and asks how useful this high-tech approach will be in the fight against disease in Sierra Leone.
New Shorter Treatment Offers Hope to TB Patients
Up until now the only treatment for drug-resistant strains of tuberculosis was a gruelling regime of up to twenty pills a day plus several big injections - for up to two years. And even then it was only effective in half the patients who endured it. But a shorter treatment lasting only nine months has been tried out in countries like Ethiopia, South Africa, Vietnam and Mongolia using a slightly different combination of antibiotics. Claudia Hammond talks to Dr David Lister who is the Co-ordinator of the short-term regimen for the charity MSF in Uzbekistan and who says it is effective in many more people than the previous option and has now been endorsed by the World Health Organization.
Svalbard Global Seed Vault
Marnie Chesterton travels to Spitzbergen inside the Arctic Circle to get a rare view inside the Svalbard Global Seed Vault. The seedbank is receiving vital deposits from seed banks in Pakistan, New Zealand, Taiwan, Germany and Thailand – helping to preserve their national crop varieties against war and natural disaster, and guarantee future world food supplies.
(Image caption: Zebrafish embryo – used with the kind permission of Kate Turner/UCL/zebrafishbrain.org)
The Science Hour was presented by Roland Pease with comments from BBC Science reporter Jonathan Webb
Producer: Alex Mansfield