Main content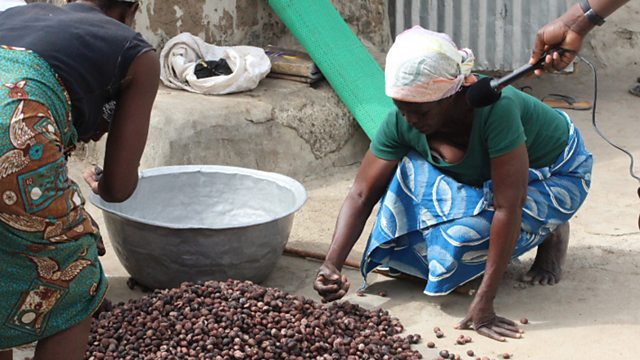 Shea Gold
The plight of rural women making shea butter in Ghana's northern regions. Presenter Akwasi Sarpong investigates.
Journalist and BBC Focus on Africa presenter Akwasi Sarpong heads to Ghana to hear the stories of rural women at the bottom of the pyramid of a multi-million dollar confectionery, pharmaceuticals and cosmetics industry relying on shea butter from Africa.
Shea butter has become a preferred commodity for makers of skin products because of its natural healing properties and by confectioners as a cocoa butter substitute. But while we slap on body creams, bathe with soaps and enjoy sweets with shea butter extracts, how many of us know where the butter comes from and what life is like for the women who make it for income to support their families?
From the Sahel regions of West Africa where shea butter is produced commercially (Ghana, Burkina Faso, Benin and Mali) to East Africa (Uganda and South Sudan), the United Nations Development Programme estimates that an average of three million women work directly, or indirectly, with shea butter. Exports account for 90 million to 200 million dollars a year. Demand comes not only from major corporations but also from entrepreneurs in the value and distribution chain.
Over a week, Akwasi meets a group of mostly widows in remote villages of Ghana's arid and poor Savannah regions who risk snake bites to collect shea nuts in the wild, manually crush and process its fruit into butter over hot open fires in a harsh dry and extremely hot climate. Some are coping with abusive husbands with drink problems, striving to pass on the tradition to daughters keen to migrate to the country's south for menial jobs, and why they are banking on making shea butter to change their fortunes.
(Photo: Ghanaian women sort out the bad shea butter nuts from the good nuts)
Broadcasts
BBC World Service

Online, Europe and the Middle East, South Asia & UK DAB/Freeview only

BBC World Service

except East and Southern Africa, News Internet & West and Central Africa

BBC World Service

Americas and the Caribbean, Online, Europe and the Middle East, South Asia & UK DAB/Freeview only