Main content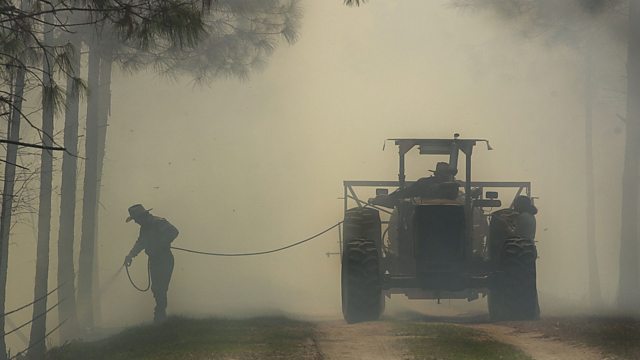 Farming and Air Pollution
Farming and Air Pollution; Pompeii lead plumbing pollution; Tsunamis on Mars; Dog Cancer; Telephone Data Mining; Climate and Plants
In some parts of the world, the worst types of particulate air pollution, the sort of thing that causes around 7 million deaths a year, are due not just to belching engines and factories, but to agriculture. And in certain parts of the world, agriculture causes more pollution than all other anthropogenic sources. This is suggested by a Susanne Bauer from the Earth Institute of Columbia University New York and colleagues in a paper this week published in Geophysical Research letters.
In Naples, archaeologists have been looking at lead isotopes in the layers below the harbour floor, and can detect the moment, after the eruption of Vesuvius that roman plumbers had their work cut out replacing and rebuilding the sewers.
On Mars, scientists looking at satellite imagery suggest ancient tsunamis were responsible for removing obvious signs of a coastline around any ocean of water that may once have existed.
Meanwhile, a single tumour on a dog's genitals 11000 years ago went on to infect dogs the world over, and its movements have now been mapped. The infectious and prolific cancer, CTVT, is a very serious disease for unfortunate dogs but is regarded as the oldest such lineage known in nature.
Researcher Patrick Mutchler and colleagues at Stanford University used cunning and guile, but not that much, to expose how much personal information can be gleaned from so-called telephone metadata (call times, numbers, durations) without knowing anything of the content of a call. This sort of data is often less well protected than the actual content of an individual's calls, yet this paper aimed to show that legislators may have got that wrong.
And last week, at the Royal Botanic Gardens, Kew in leafy west London a symposium looked at the likely impacts of climate change on global plant health and biodiversity. The BBC's Cathy Edwards went along.
Presenter: Roland Pease, with comments from Jonathan Amos and Jonathan Webb
Producer: Alex Mansfield
(Photo credit: TONY RANZE/AFP/Getty Images)
Last on

BBC World Service
except News Internet
Broadcasts
BBC World Service

except East and Southern Africa & News Internet

BBC World Service

Americas and the Caribbean

BBC World Service

Online, Europe and the Middle East & UK DAB/Freeview only

BBC World Service

East Asia & South Asia only

BBC World Service

Australasia

BBC World Service

East and Southern Africa & Europe and the Middle East only

BBC World Service

except News Internet