Main content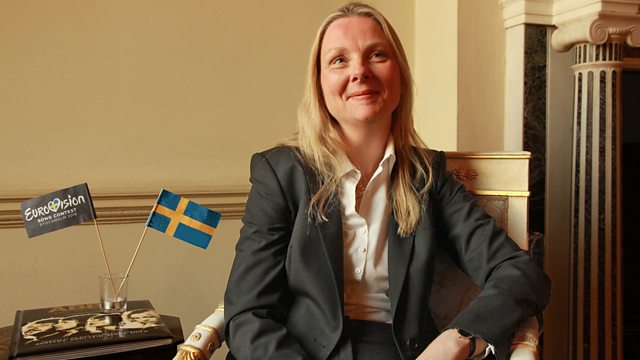 The Swedish Ambassador's Guide to Eurovision
Ahead of the world's biggest song contest, the Swedish Ambassador to London, Nicola Clase, explains why pop is a secret weapon.
The Eurovision Song Contest is the most watched entertainment show on the planet with 200 million people tuning in to see singers compete under their national flags. It is a glittering, showbiz spectacle. But backstage, it is as much about politics as pop.
Ahead of this year's competition in Stockholm, the Swedish Ambassador to London, Nicola Clase, explains why diplomats take it seriously.
The Eurovision Song Contest offers a platform where countries can send coded, and not-so-coded, messages to each other through their songs and through their votes. This year all eyes are on Russia and Ukraine who are engaged in an ongoing conflict off-stage. Recent audiences have booed the Russian contributions, but President Putin is determined to win. Nicola finds out why.
The competition does not just reflect politics, it can affect them too. A Portuguese songwriter recalls how his 1974 entry launched a revolution that deposed a dictator. A former Swedish diplomat in Norway explains why he got into trouble when his country neglected to give its neighbour any points.
In Sarajevo, Nicola hears why newly-independent Bosnia sent a delegation to the contest while the city was under siege. Performers dodged snipers and walked across mountains for several days just to get a chance to sing on the Eurovision stage.
Far from being just a bit of fluff, the 60-year-old song contest offers a surprising way to understand Europe's recent history and shifting allegiances. Its soft power is proving attractive to non-Europeans too. Australia is participating for a second year; China and Korea are interested too. The Ambassador offers a unique insight into why foreign-policy makers would do well to put on their dancing shoes and join the party.
(Photo: Swedish Ambassador to London, Nicola Clase. Credit: Kieron Humphrey)
Clips