Main content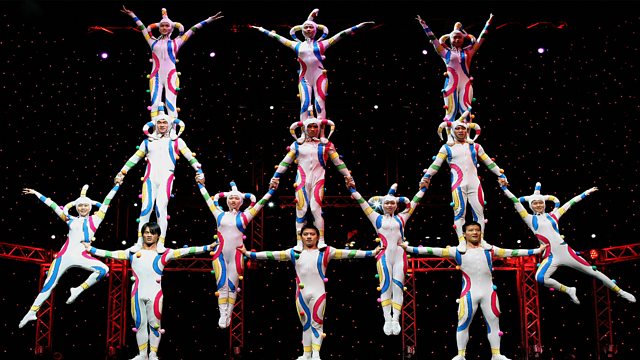 Balance: How we Find Equilibrium
Why balance in humans, machines and music are needed for effectiveness and safety.
Balance is essential. It stops us falling over or getting too cross and it stops machines failing catastrophically. There are also very fine balances present, more generally in nature and across the universe. But much of the World is not in exact and perpetual balance - it needs constant fine tuning.
To help explore our latest understanding of balance in human beings, machines and music, Bridget Kendall talks to Patricia Kopatchinskaja, the distinguished Moldovan-Austrian violinist, who explores the internal balance need to play world class music; Jade Kindar-Martin, high wire artist and member of the Flying Wallendas who examines the fine tuning of mind and body needed to keep in balance on a high wire; Professor Andrew Heyes, head of Department of Mechanical and Aerospace Engineering at the University of Strathclyde, in Scotland who looks at the very fine balances needed to ensure machines work effectively and safely.
(Photo: Acrobats form a human pyramid as they rehearse with Le Grand Cirque at the Sydney Opera House, 2009. Credit: Getty Images)
Patricia Kopatchinskaja
Patricia was born in Chisinau, Moldova, to a family of professional folk musicians. At the end of the communist era, her family decided to move to Austria she was soon helping her parents by playing piano and violin in restaurants. When she was 17 she entered the Vienna Academy of Music. At 21 she won a scholarship to study at the conservatory in Berne.

She is known for her ecstatic style and exciting improvised free-time solos. She has been described as 'the most exciting violinist in the world.

Patricia explores the idea of balance as an emotional response to playing music
Professor Andrew Heyes
Professor Heyes is Head of Department of Mechanical & Aerospace Engineering at the University of Strathclyde. Previously he was a Reader in Heat Transfer in the Mechanical Engineering Department at Imperial College London with research interests in experimental thermofluids. He is also Director for Education for the Energy Futures Laboratory. 

Before going to Imperial College London, Andy worked with Rolls Royce plc and British Aerospace (Military Aircraft Division Warton).

Andy has co-authored a book, Jet Propulsion: A Simple Guide to the Aerodynamics and Thermodynamic Design and Performance of Jet Engines. He thinks the jet engine is a perfect example of engineering balance.
Jade Kindar-Martin
Jade Kindar-Martin is a high wire walker and circus performer. He started performing on the wire at the age of 14 with Circus Smirkus, a youth circus based in Vermont, USA and has worked with the Ecole Nationale de Cirque, the Centre National des Arts du Cirque in Châlons-en-Champagne, France, Cirque du Soleil and The Flying Wallendas. With professional partner Didier Pasquette, he set a Guinness World Record double skywalk across the River Thames in London in 1997.

In the summer of 2004, Jade married fellow Cirque du Soleil performer and stunt woman Karine Mauffrey, high up in the air on a wire stretched over the grounds of the Château de Chantilly in Chantilly, France. Jade discusses how he retains his balance in the most severe of circumstances.