Main content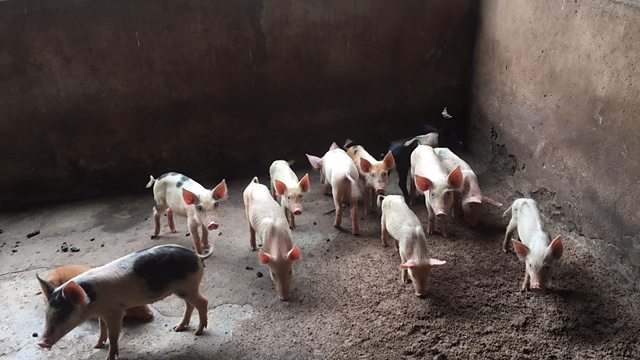 Animals on Antibiotics: Could Pigs on Pills Make us Ill?
This week, the Food Chain explores the controversy over how agriculture uses antibiotics to promote growth, and prevent illness.
The animals we eat consume more than 60% of the world's antibiotics - but not always because they are sick. This week, the Food Chain explores the controversy over the use of antibiotics in agriculture to promote growth and prevent illness. Amid dire warnings that we are heading into a dangerous new world of resistance to antibiotics, we ask whether there really is a link between their use on farms and human resistance. From large scale agricultural businesses in China, to small scale farmers in Africa, presenter Mike Johnson hears from both sides of the debate.
Dr Brian Evans from the World Organisation for Animal Health explains how the amount of antibiotics given to animals varies from country to country, and is proving hard to regulate. Pig farmer Jonathan Aganga in Nigeria - with his bag of antibiotics at his side - tells us why he believes they're essential for his livelihood. We also hear from Professor Yanzhong Huang, an expert on public health in China and whose brother is a pig farmer in Jiangsu province. Plus we visit a busy London food market, to hear what consumers make of the controversy. Presented by Mike Johnson, produced by Emily Thomas.
(Photo: Piglets at Jonathan Aganga's farm, Nigeria)
Last on

BBC World Service
,
BBC World Service Core
,
BBC World Service ANR
&
BBC World Service US Public Radio
Broadcasts
BBC World Service

except West and Central Africa

,

BBC World Service Core

,

BBC World Service ANR

&

BBC World Service US Public Radio

BBC World Service

,

BBC World Service Core

,

BBC World Service ANR

&

BBC World Service US Public Radio