Main content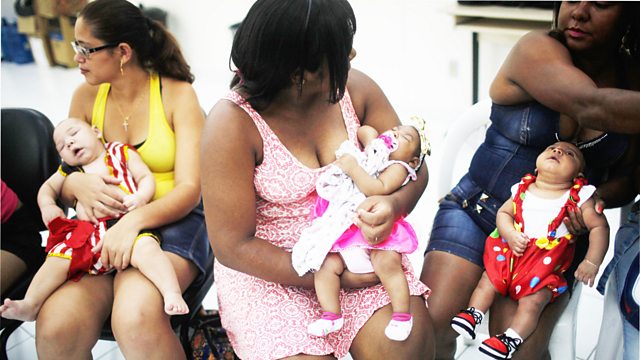 Zika Causes Birth Defects
Zika and birth defects; Deepwater Horizon Oil spill and dolphin deaths; Bat-sound library; Stephen Hawking backs interstellar travel project; Tilapia Lake virus
The CDC has announced that the Zika virus is linked to birth defects. A growing body of evidence has led the scientists to this conclusion. We look at new research that shows that the Zika virus can significantly damage the developing brain. As doing experiments in the developing baby's brain is impossible, this team of researchers used models that mimic embryonic brain development in the lab. They infected their human brain models with Zika virus and found that most of the very early brains died within days, while 40% of more mature brain models showed reduced growth. They compared these models to ones which had either no Zika infection and to ones infected with Dengue virus – both developed as expected. The authors are now looking to carry on their work to see how Zika virus affects different stage of embryonic brain development.
Deepwater Horizon Oil Spill and Dolphin Deaths
A four-year study of newborn and fetal dolphins found stranded on beaches in the northern Gulf of Mexico shows these stranded ceteceans died of different causes than baby dolphins found elsewhere. The study, reported in the journal Diseases of Aquatic Organisms, identified substantial differences between fetal and newborn dolphins found stranded inside and outside the areas affected by the 2010 Deepwater Horizon oil spill. The work is part of an investigation into an 'unusual mortality event' that involved mainly bottle nose dolphins in the area between 2010 and 2014. The baby dolphins found were significantly smaller than those stranded in previous years or elsewhere and also showed lung abnormalities – quite simply they never took their first gulp of breath – so they either died in the womb or very shortly after birth. The research adds to work published last year which showed that juvenile and adult dolphins who died in the same period and location had died of either adrenal gland problems or lung disease like pneumonia.
Bat-Sound Library Tracks Biodiversity
Scientists have compiled the biggest known library of bat sounds in an effort to identify and conserve rare species. International researchers recorded more than 4,500 calls from about half of Mexico's 130 bat species. The audio library allows bat calls to be identified automatically, helping to monitor any changes in biodiversity.
Stephen Hawking Backs Interstellar Travel Project
Stephen Hawking is backing a project to send tiny spacecraft to another star system within a generation. A $100m (£70m) research programme to develop the computer chip-sized "starships" was launched by the billionaire Yuri Milner, supported by Facebook founder Mark Zuckerberg.
Tilapia Lake Virus
Scientists have identified a new virus that kills tilapia. Tilapia are a freshwater fish that provide a cheap source of protein to many people in the developing world as well as being heavily imported into the United States. It is known in the Middle East as St. Peter's Fish as it is believed to be the fish that Jesus used in the miracle of the feeding of the 5000. The research published in the journal mBio – the open access journal of the American Society for Microbiology – shows that the tilapia lake virus has struck populations in Israel, Ecuador and Columbia. The scientists have developed diagnostic tools to recognise infection and are now working on a vaccine to stop the virus from spreading.
(Photo: Children with birth defects from the Zika virus. Credit: Getty Images)
Last on

BBC World Service US Public Radio
Broadcasts
BBC World Service

except East and Southern Africa

,

BBC World Service Core

,

BBC World Service ANR

&

BBC World Service US Public Radio

BBC World Service US Public Radio

BBC World Service US Public Radio

BBC World Service US Public Radio