Main content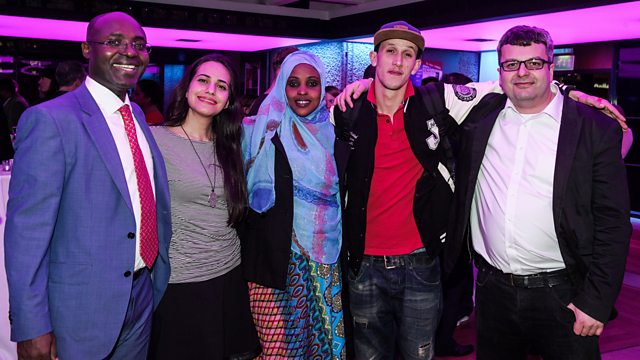 Freedom of Expression Awards
Saluting activists at the Freedom of Expression Awards; Bolo Bhi defends free speech in Pakistan; VR at the Tribeca Film Festival; The rise of online language learning
Each year Index on Censorship honours activists who have been at the forefront of tackling censorship globally. The awards for digital advocacy are presented at a ceremony in London on 13 April. Click hears from Jodie Ginsberg from Index on Censorship.
Bolo Bhi
Bolo Bhi is one of the nominees of the Freedom of Expression Awards. Bolo Bhi, from Pakistan, is a women-lead digital rights campaign group who have orchestrated an impressive effort to turn back the Pakistan government's draconian attempt to censor the internet. Colin Grant talks to Farieha Aziz from Bolo Bhi.
Tribeca Film Festival – Storyscapes
The Tribeca Film Festival is at the cutting edge of virtual reality film making. This year's festival includes Storyscapes, a number of innovative projects using tech and VR to tell stories. They include the Argus Project – the story behind a wearable exo-suit with dozens of surveillance cameras embedded in it so that it acts as a citizens' version of the police body camera. Lauren Hutchinson reports from the Tribeca Film Festival in New York.
Online Language Learning
The internet has hugely influenced language learning - online has shifted the boundaries of the traditional classroom and tutoring with countless apps, YouTube tutorials, free online calls, video conferencing, dictionaries, translation platforms - making language learning more accessible and affordable. In Snežana Ćurčić's report she hears from an International Relations student Millie Radovic from London, connecting with her tutor in Russia; from the CEO of italki, as well as a linguist and a critic of online language learning.
(Photo: From left to right: Rafael Marques de Morais (Journalism), Safa Al Ahmad (Journalism), Amran Abdundi (Campaigning), Mouad "El Haqed" Belghouat (Arts) and Tamas Bodokuy (Digital Activism)
Last on

Broadcasts
BBC World Service

except East and Southern Africa

,

BBC World Service Core

,

BBC World Service ANR

&

BBC World Service US Public Radio

BBC World Service US Public Radio