Main content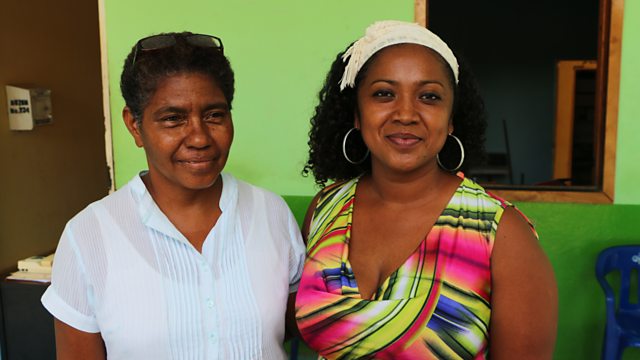 The Afro-Mexicans
Black people in Mexico's remote Costa Chica feel ignored and neglected. Lucy Duran meets a community struggling for recognition and proud of its identity.
Many black people in Mexico's remote Costa Chica area near the Pacific ocean feel ignored and neglected by the state. A lot of Mexicans don't even know the Afro-Mexicans exist. Outside their towns, they often get stopped by police who don't believe they can be Mexican. Some have even been deported, despite having Mexican ID papers.
So who are the black Mexicans? Lucy Duran meets members of this ethnic community that is struggling for identity and recognition. They use their culture, such as the characteristic Dance of the Devils or Chilena music, to assert their identity and fight for their rights.
Activists want the state to accept Black people as a separate ethnic minority, distinct from indigenous people, but with the same rights. It is not only about being able to hold your head high. It's also about money. Those fighting for official recognition say that they're not eligible for the special kind of financial support that similarly isolated indigenous communities get. They blame their poverty on this lack of funding.
Dr Lucy Duran meets black Mexicans ranging from a cowboy to a singer-songwriter and explores how they identify themselves, why even those who do not obviously look as though they are of African descent describe themselves as black, and why their identity has become a political issue.
Consultant and translator: Dr Sergio Navarrete Pellicer
(Photo: Paula Maximiana Laredo Herrera and Tulia Serrano Arellanes, council workers in Santiago Llano Grande, a black town in the Costa Chica area of Oaxaca state, Mexico)
Last on
BBC World Service
Australasia
Broadcasts
BBC World Service

except News Internet

BBC World Service

except Australasia & News Internet

BBC World Service US Public Radio

BBC World Service

,

BBC World Service Core

&

BBC World Service ANR

BBC World Service

,

BBC World Service Core

,

BBC World Service ANR

&

BBC World Service US Public Radio

BBC World Service

Australasia