Main content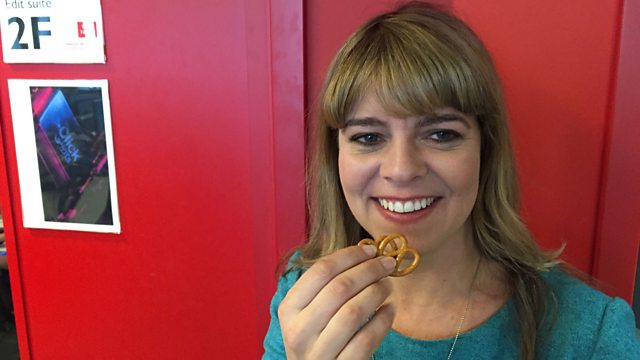 The Crunch Effect: Why we Should Listen as we Eat
Why hearing yourself eat makes you consume less; hookworm volunteers; deaths from environmental causes; end of Ebola outbreak.
A Colorado State University study has found that hearing yourself eating food makes a difference to how much you eat – which means TV dinners might lead you to eat more. One of the authors, Dr Gina Mohr, told Claudia Hammond about how she did the study - with pretzels - and why we should listen to what our what food sounds like.
Hookworm Volunteers
Lizzie Crouch reports from Washington DC where volunteers have been queuing up to get deliberately infected with hookworms in order to test vaccines. These volunteers are doing this not for themselves, as they are unlikely to ever pick up the parasitic worms, but to help people in the developing world. Hookworms can cause severe disability and anaemia, especially in sub-Saharan Africa, South-East Asia and parts of the Americas. Although drugs can eliminate these parasites, people can find themselves repeatedly infected, so scientists are searching for ways to vaccinate people against hookworm.
Deaths Caused by Environmental Factors
Ten years ago, the World Health Organisation added up all the deaths caused by everything from air pollution to a lack of clean water and the results were shocking. A decade on the WHO has compiled the latest figures to see what has changed. The answer is not a lot. Claudia Hammond talks to Dr Maria Neira,director of the Department of Public Health and the Environment at WHO, and finds out that although there are fewer deaths from infections, there are more caused by non-communicable diseases, such as stroke and cancer.
Ebola Outbreak is Over
The WHO has declared that the Ebola outbreak in West Africa is essentially over, despite sporadic cases. Professor Jimmy Whitworth of the London School of Hygiene and Tropical Medicine is optimistic about controlling the disease through vaccination and persuading people to have safe sex. James Gallagher and Claudia Hammond discuss the significance of the WHO announcement.
(Photo: Claudia Hammond tests 'The Crunch Effect' with a pretzel)