Main content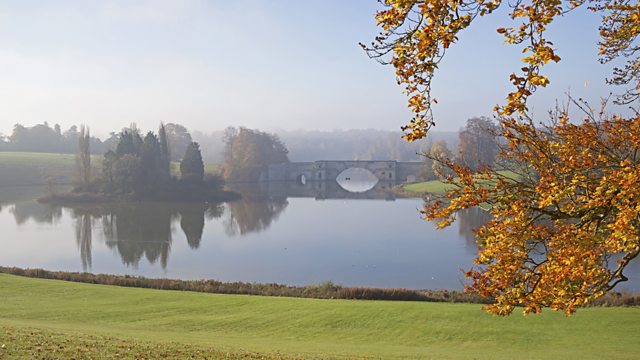 Taming Nature
What is the line to be drawn between protecting the environment and manipulating it? With Gilly Drummond, Danae Stratou, Dorian Fuller and William Beinart.
Is the idea of a pristine landscape an illusion, given that over thousands of years human activity has almost everywhere left its mark? Bridget Kendall asks the gardener Gilly Drummond, the land artist Danae Stratou, the archaeobotanist Dorian Fuller, and the historian William Beinart.
(Photo: Blenheim Palace Park where English landscape architect Capability Brown created a 150-acre lake and planted more than a million trees to make perhaps his finest artificial landscape © Blenheim Palace)
Last on
BBC World Service
Australasia
Gilly Drummond
Gilly Drummond is the trustee and restorer of one of Capability Brown's smallest surviving pleasure grounds, Cadland Gardens, which is on the shores of the Solent near Southampton in Southern England. Lancelot Brown, nicknamed "Capability", was one of Britain's most celebrated landscape gardeners. He was born 300 years ago this year and is often praised for combining utility and beauty in his designs. Gilly Drummond is a gardener and a conservationist, who chaired the English Heritage Historic Parks and Gardens Panel, and was the founder Chairman of the Association of Gardens Trusts now merged with The Gardens Trust. She's been awarded the Royal Horticultural Society Veitch Memorial Medal, and the OBE.
Danae Stratou
Danae Stratou is a Greek land and installation artist. Many of her works explore the way we view nature – like Desert Breath - a giant spiral shaped sand sculpture in the Eastern Egyptian Sahara desert bordering the Red Sea, which she co-created. Danae represented Greece at the 48th Venice Biennale in 1999 (the first woman in 30 years to do so), and also at Transcultures in Belgium in 2004 and the Adelaide Festival in Australia in 2012. Danae is also the co-founder of the non-profit organisation Vital Space, which is based upon the principle that artworks can change the world for the better. 
Dorian Fuller
Dorian Fuller is Professor of Archaeobotany at University College London. He is an American archaeologist who specialises in human plant use in Prehistory and reconstructing agricultural systems. Much of his archaeological work covers the Middle East, including Ethiopia and Iraq, and Neolithic China.  From his studies of archaeological sites, he has shown the origins of farming are not as clear cut as originally believed, and that contrary to popular belief, most early cultivation happened during periods of relatively stable and warm weather when wild foods would have been plentiful. 
William Beinart
William Beinart is a South African born environmental historian. He is a former Professor of race relations and director of graduate studies at the African Studies Centre, University of Oxford. His research explores our differing attitudes towards controlling nature, and particularly focuses on the impact of plant and animal introductions to South Africa, including the prickly pear from Mexico, and the millions of sheep in colonial times. William Beinart is also an author, and his books include   The Rise of Conservation in South Africa; with Lotte Hughes, Environment and Empire; and with Luvuyo Wotshela, Prickly Pear: The Social History of a Plant in the Eastern Cape. He recently published an A level text book on South Africa 1948-1994.
Broadcasts
BBC World Service

except Americas and the Caribbean, Australasia & News Internet

BBC World Service

Americas and the Caribbean

BBC World Service

except News Internet

BBC World Service

except News Internet

BBC World Service

Australasia